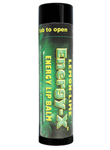 Pacific Shore Holdings' new Energy-X, Lemon Lime flavored lip balm is made from pure Soy Oils, Shea Butter, a natural blend of Hoodia and Green Tea extracts, as well as Natural Caffeine. Energy-X contains SPF 30. Energy-X lip balm incorporates proven dietary supplements that increase your energy level and curb the user's appetite, and also contains moisturizing Aloe Vera to soften lips. Wholesale on this product is $2 per unit, with suggested retail of $3.99. Its 25 count counter top display measures 3.5 x 3.5 x 4.5 inches. The countertop carton holds a 12 count, and the master carton contains 12 cartons.
Pacific Shore Holdings, Inc. has also introduced the Burner Balm lip balm product line, developed by doctors with a focus on healthy weight loss, and contains SPF 15. Pacific Holdings' doctors chose ingredients that have been proven to reduce weight levels, as well as burn fat, while keeping the user's energy level up. Burner Balm comes in five flavors, including Original, Strawberry, Acai Berry, Pomegranate and Vanilla. The product has a wholesale price of $2 per unit and a suggested retail price of $3.99. The counter top display holds 25 units.
The purchase of 300 lip balms are required for a minimum order. Since 25 units come in one countertop display, the minimum would be 12 countertop boxes, and the company will mix and match product.
For more information:
Pacific Shore Holdings, Inc.
Tel.: 818-998-0996
Website: www.energy-x-lipbalm.com