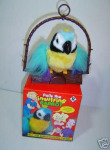 After ten years of shipping their customers hard to find gag and gift items at the lowest prices and with no minimum orders necessary, Will and Tara Blohm still say their "funny" business won't put up with any funny business like bad service or handling fees for dropshipping. "We've been through that with other dropshippers, and the games they play with you, but our dropshipping is always free, our customer service is great, and we always ship fast; even if a customer only orders a single item."
Blohm claims he got into the novelty business after an injury left him unable to return to the construction business, but he's never looked back. "I love to laugh, and so I'm always hunting for hot new gag items and testing them out," he says. In fact, TW's inventory is refreshed so frequently that the company doesn't print a catalog. It would be outdated before the ink dried. Instead, on the company's continually updated website, customers can view a wide variety of goods segmented into dozens of product and price categories, or they can head right to "Hot Sale Items" or "What's New."
New offerings include such sought after items as novelty animal or thumb cuff key chains (play a prank and handcuff someone's thumbs together), syringe pens, switchblade combs, and talking parrots that squawk politically incorrect rants. But also available are such original new entries as the flying cow slingshot that launches when the animal's hooves are pulled backward, and then screams as it sails through the air. Blohm also points to TW's brand new wedding categories, which include card decorating kits, print wedding aisle runners, various types of wedding bubble makers, and even wedding activity sets for kids. The tough economy has made this the perfect time for all sorts of do it yourself wedding items, he maintains, and the popularity of such hot TV shows as Bridezillas and Rich Bride, Poor Bride haven't hurt demand, either.
Blohm's business isn't seasonal, he says, but November and December are always strong sales months, "Because people just love to buy novelty gifts for Christmas and especially for stocking stuffers," he adds. Unlike much of his competition, TW Novelties will dropship for free anywhere in the world. "This is a great way for our customers to increase profit margins, as it saves on the initial shipping charges they would incur if they had to have the order shipped to them first. All of our dropshipped orders are marked with the return address, 'Customer Service,' which makes our customers look as though they have a large corporation with their own fulfillment center. And dropshipping enables them to offer a huge variety of products without the expense of keeping their own inventories."
What's more, says Blohm, "If you sell online, you can use all our website images and descriptions as your own, even on eBay." Australia, he claims, is a hot market for his novelty items, as is England, followed by Russia and China. Yet no matter where Blohm and his wife ship, they pride themselves on their outstanding customer service, speedy delivery (usually within 24 hours), free handling, and ability to sell with no minimums whatsoever. Customers do not need a business license to purchase. Prices scale according to order size, decreasing as units increase.
For more information:
TW Novelties
East Stroudsburg, PA 18302
Tel.: 570-460-8327
Website: www.twnovelties.com