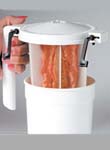 COOKING BACON may not be at the top of your list of things you enjoy, but the new WowBacon(tm) Microwave Bacon Cooker just might change your mind. The bacon cooker lets you make only as much cooked bacon as you want, and it can be done on the spur of the moment with no clean up. The bacon cooker is a small, enclosed container with an internal rack. The strips of bacon are placed over the racks, the container closed and put into the microwave. There is no splatter or drippings, the microwave stays clean, there is no need to use paper towels in this process, and the bacon maker is dishwasher safe.
The unit is simple to operate. You can detach the lid from the container by pressing a key down. The lid and rack come out together and can be placed on a plate. Then the lid is rotated to remove it from the rack, and the finished bacon is lifted from the rack.
The unit has a suggested retail price of $19.95, plus shipping and handling. The minimum order is six units and the company offers a six pack introductory offer. For established accounts, there are cases of 12 or 24 units, and there are two pricing tiers. The company offers a pricing tier for retail stores in which the bacon maker is packaged in a graphics rich box. The wholesale price on that is $8.98. Valcor has a less expensive catalog box, which is a plain box. That goes for $7.98 wholesale.
For more information:
Valcor Inventions, Inc. – WowBacon(tm)
1745 Harding Road
Northfield, IL 60093
Tel.: 847-340-1356
Website: www.wowbacon.com