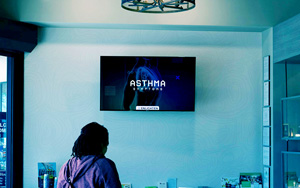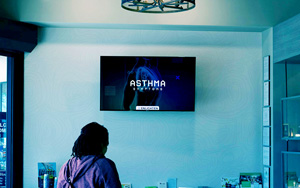 Despite all the craziness that CBD has brought to the world, 61 percent of Americans still don't know what CBD is, and only 19 percent have actually tried CBD-infused products. If shoppers don't even know what CBD is, most likely they won't buy your products if you sell them. If only retailers could hire a staff member to stand by the CBD products to educate consumers.
The truth is, indie retailers don't have the money or resources to hire a worker to just stand by the CBD products all day long. But there is a way to still educate shoppers on CBD without needing a human present — and that's where Enlighten Wellness comes in. They offer an enlighten center concept, which is a TV screen sitting on top of an endcap that continuously runs videos, games, and other informative programs to educate consumers on CBD.
"At its core, we serve retail partners as a category manager for CBD products," Colby McKenzie, Co-Founder of Enlighten Wellness, said. "When it comes to these health products, shoppers don't understand that they might need some of them or the benefits that they could provide, so we offer education on every CBD category."
Consumers Are Definitely Interested
Google search rates for CBD are skyrocketing, with rates increasing 160 percent from 2017 to 2018. Consumers looked up the two terms 6.4 million times in April of 2019 alone, which means they are definitely interested in learning more about this compound. Instead of letting shoppers look up CBD on their phones and draw their attention away from your products, Enlighten Wellness gives them all of the information they need right there in your store.
So How Exactly Does This TV Work?
Enlighten Wellness works with each individual retailer to determine their needs and maximize their budget. "We come into a retailer and figure out how much space they have, how their foot traffic patterns work, and determine what type of screen to use," McKenzie said. "Enlighten Wellness is a standalone endcap. We've built screens into already made endcaps, or we can build a screen that sits on a shelf outside of an aisle. We see the specific need in a certain location and configure it to the retailer."
Enlighten Wellness utilizes their company technology that allows them to weave content together and make sure something appropriate is always running on the screen. It's not some boring sign that plays the same videos over and over; the content is piped directly through the internet from a large library of educational content and dynamically plays programs focused specifically on what is offered in that location within the store.
For example, an independent pharmacy in California will have different content than one in Washington. Even though the programs are being pulled from a massive library, the content changes to fit the retail location they're in, so you never have to worry about the same videos playing over and over and boring shoppers out the door.
Videos Are Persuasive
Watching a video can help persuade 73 percent of customers into buying a product or service. On top of that, 60 percent of consumers feel more positive about a brand after consuming content from their videos. Not only are videos entertaining and draw the shopper into what is being discussed, it also educates them and makes them realize how useful the product really is.
Since their launch about six months ago, Enlighten Wellness already has 200 retailers across 19 states utilizing their TVs, which includes independent pharmacies, national health food stores, and grocery shops. To get more information on Enlighten Wellness and their products, visit enlightenwellness.io.