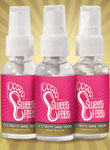 Sweet Feet recently introduced Sweet Feet spray, a product that eliminates odor and kills germs when sprayed inside shoes. "It is a one ounce glass spray bottle that you shake to activate the formula," explains Edward Rodarte, CEO of Sweet Feet. "The main ingredient is alcohol, which kills bacteria and leaves shoes smelling fresh." Sweet Feet is available in two scents; a cherry plum aroma packaged with a bright pink label for women, and a more masculine fragrance packaged with a black label for men. The deodorizer is perfect for all types of footwear, and is used to prevent odor as well as to freshen up already stinky shoes.
Thomas Hooper, chemist and co-owner of the business, has several products on the market and has been developing fragrances for about 15 years. "Sweet Feet does more than just cover up shoe odor," he points out, "it kills bacteria and people really like that." Hooper says he developed these popular fragrances after tinkering with different formulas for about a year. The product's base is oxygenated water, which is said to be effective at killing microorganisms. "I started making oxygenated water, and I put it through a carbonator and then added other ingredients." While Hooper is the mastermind behind the product formulation, it is Rodarte who developed the concept for the deodorizing spray several years ago, because he worked long hours and was struggling with smelly shoes himself. "I searched for a solution for years," he recalls, "trying various sprays and powders, and nothing worked so I came up with this idea."
When Rodarte and Hooper bumped into each other just over a year ago, the concept came to fruition. Made in the U.S.A., Sweet Feet spray's suggested retail price is $3.99, although some retailers charge $4.99, and it wholesales for $1.99. Each point of purchase display holds 25 units and wholesales for $49.75. "It's a beautiful chipboard display with vibrant colors and the Sweet Feet logo," Rodarte shares. "When you open the display, the feet and the logo pop up." Sweet Feet ships products in single counter displays and master cases to all 50 states. The minimum order is one counter display, and the company is offering free shipping on buyers' first orders over $100. Goods are sent from the company's Southern California warehouse, typically within one day of order payment, and generally arrive within one to three business days.
Sweet Feet will be exhibiting at several tradeshows throughout 2013, including the ASD in show Las Vegas in March and the CAMEX show in Kansa City in February.
For more information:
Sweet Feet Spray
P.O. Box 59
Victorville, CA 92369
Tel.: 760-813-6077
Website: www.sweetfeetspray.com