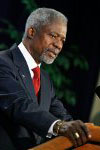 A record 2,700 plus people are attending the National Retail Federation (NRF) 102nd Annual Convention & Expo at the Javits Center in New York this week. Held January 13-16, Retail's BIG Show is the place for retail professionals to get the latest trends in business and technology, as well as global leaders' thought-provoking insights. Exhibit halls bursting with eCommerce, point of sale (POS), mobile payment, data analytics and other platforms, as well as keynotes and presentations by influential business leaders, are providing retailers mission critical information.
Monday's keynote speaker, Kofi Annan, Secretary-General of the United Nations from 1997 to 2006, discussed "Building Strong Nations: The Three Pillars to a Prosperous Society." Predicting growth in the global economy in the next two years, Annan noted that the economy has a direct impact on business. An economy, he said, cannot move forward without the three pillars of peace and stability; development; and the rule of law and human rights. "As business men and women," he stated, "you do have influence, to create jobs as well as talk to political leaders." He implores businesspersons to consider the third pillar, stressing that the first two principles are rooted in the rule of law and a dedication to human rights; furthermore, development cannot occur in a chaotic environment, and the second pillar is dependent upon the first. "The retail industry has an important role to play," he added. "The population is growing very fast and we need to create millions of jobs to keep young people busy.
Mobile payment applications are changing the way even the smallest businesspersons do business, he pointed out, noting that illiterate farmers are now using their cell phones to conduct business. Annan also emphasized that big business must bring SMBs into the supply chain and help them improve their products. Unilever, by way of example, is raising the skills and productivity of the farmers and small businesses it works with so they can increase their incomes and improve their standard of living.
Africa is attracting more foreign investment, Annan also shared, stating that six out of 10 of the fastest growing economies in the world are in Africa. Parts of the continent would be good manufacturing bases, he remarked.