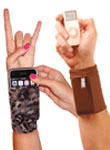 Many people hold their cell phone in their hand, even when they aren't on a call, reports Ted Ross of South Mill Design. "No one wants to miss a call or text message," says Ross, who along with partner Heidi Kleinman, invented the Phubby. "We wanted to develop a hands free way of keeping phones within reach, before we ended up with a generation of kids who were essentially one-handed. The 'eureka' moment was when we came up with the design for a fabric pocket that could be worn on the wrist."
The Phubby, a combination of "phone" and "cubby," began as a prototype made from solid fabric. The patented final version is made from a mesh-like material that enables wearers to see who is calling or messaging them, without removing the phone from the pocket. Ross and Kleinman discovered an additional bonus to the mesh construction when they found that touchscreens could be operated encased in the material. They then made the Phubby available in two sizes, for small and regular (medium to large) wrists, equipping the latter with an adjustable sizing band for optimal fit. "The small is more suited for kids and women with petite wrists, whereas the regular size is more universal," offers Ross. Both Phubby sizes will fit any phone, and are offered in a variety of colors and patterns such as tie-dye, leopard print and polka dots. Ross hopes to introduce a camouflage version of the product early this year. "We often come out with colors that I think will be modest sellers, but those often turn out to be our most popular Phubby's," Ross laughs. "Right now for example, purple is a hot color." Basic black is selling rapidly as well, comprising around 40 percent of Phubby sales.
"Nurses love the product, and so do moms who have their hands full taking care of children," Ross notes. "Phubby lets them keep both hands free without losing track of their phones. More than anything else, the product allows you to get more use out of your phone, and you know you're not going to miss a call." The company also has developed a ladies' swimsuit cover-up with a phone pocket, which sells well at resorts and beach communities. Retailers must place a minimum order of 30 pieces, which comes with a complimentary countertop display. Orders of 60 pieces come with a free spinner rack. Up to 120 pieces, Phubby's wholesale for $4.60 each, and the company offers price breaks for larger quantities. The product retails for $10.95 to $12.95. Shipping is free, and reorders may be placed in any quantity.
For more information:
South Mill Design, LLC
131 South Mill Road
Princeton Junction, NJ 08550
Toll Free: 877-466-0273
Website: www.phubby.com