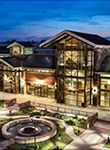 The International Gift Exposition in the Smokies® (IGES), takes place this November 1st through the 5th in Sevierville and Pigeon Forge, TN. Celebrating their 17th year, management staff will once again welcome exhibitors from all across the country to the largest wholesale souvenir, resort and gift expo in the United States. This month, Independent Retailer takes a closer look at the wide range of wholesale companies exhibiting at IGES, and that 'special something' that keeps them coming back year after year.
"We owe much and more to the wonderful vendors and buyers who've supported us throughout the years. It is because of them that IGES® continues to be such an amazing success," states Susan Mills, IGES® co-founder. In fact, nearly two dozen exhibitors have been showcasing their products at the show for 15 years or more. Buyer favorites including Aurora World, Dillon, Inc., Wishpets, Florida Marine Research, Creature Comfort Toys, The Petting Zoo, Getagadget and Smoky Mountain Pottery are among this list of successful suppliers who have called IGES® home for more than a decade.
With it's generous mix of what's known and what's new, IGES® provides buyers with unique and creative product offerings at both show locations. In Pigeon Forge, buyers can stroll the aisles and will be sure to notice a standout presence by industry leaders Squire Boone Village, Wilcor International, Safari Ltd., and A. T. Storrs. "I exhibit at the IGES® show because it is targeted specifically at the travel retail and souvenir market; it has the largest number and variety of souvenir vendors in the USA and attracts quality buyers from across the country," says Ian Storrs, President of A.T. Storrs Ltd. In Sevierville, buyers will find impressive displays from vendors such as Driftstone Pueblo, Exist Inc., Silver Nugget, El Paso Trading Post, Basix, and Miami Souvenirs, just to name a few. Rick Conway, President of Squire Boone Village says it best, "There is no other souvenir wholesale trade show that comes close to providing buyers with such a large number & variety of quality souvenir wholesale exhibitors!"
In fact, due to the popularity of the IGES® show with gift and souvenir buyers, the overall show exhibitor space has grown for 2016. "We increased our net square footage of booth space in both Sevierville and Pigeon Forge this year to make room for new companies," according to Tiffany Tysiak, Senior Account Executive. "Traveling to trade shows across the country, our sales team has been focused on bringing the best of what's new in the gift and souvenir industries to the Smokies for this year. To date we have 151 new exhibitors and Sevierville remains our source for what's new."
To make these first-time exhibitors feel welcome, Tysiak notes that each new exhibitor will have special signage at their booth to make them easy to locate. Tysiak also explains that "NEW PRODUCT ribbons will be available for all exhibitors to use to mark those new items being showcased at IGES® this year — just look for the red new product ribbons! "
In addition to the fabulous products on display at both show locations, many IGES® exhibitors are joining in the fun of celebrating the show's 17th year of success. IGES® is again holding a Shop and Win in Sevierville with Silver Nugget, running a special that spans the entire Sevierville location: buyers who submit invoices totaling $5,000 or more from any combined Sevierville exhibitors will win a piece of Silver Nugget Sterling Silver & Turquoise jewelry, while supplies last. In Pigeon Forge, the first 50 buyers to the SoapSox® booth (#7320) on Thursday, Nov 3rd at 10am will receive a newly released SoapSox® Bath Scrub, and the first 100 buyers to visit the Aurora booth (#6022+) on Friday, November 4 at 2pm, will receive a hot new Sea Sparkles Plush. And let's not forget the Wine Walk on opening day at Sevierville or the Shop, Sip & Win on closing day at Pigeon Forge. In addition, award winning authors Carl R. Sams and Jean Stoick will be signing copies of their newest release, A Magical Winter, on Wed. Nov. 2nd from their Pigeon Forge booth 6505 from 2-4pm and Fri., Nov. 4th at the Sevierville Concourse fireplace from 10am-noon. Great prizes, delicious lunches and snacks will also be available to hungry buyers throughout both locations, sponsored by a host of exhibiting wholesale suppliers.
The fun and celebrations abound at IGES®, as do the variety and selection of amazing gift and souvenir products. If you sell gift merchandise of any kind in your store or shop, you won't want to miss this year's IGES® Show — Your Success is Set with IGES®.