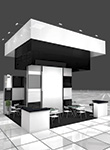 As a retailer, there are many reasons for starting up a cart or kiosk business. Whether it's to test out new products or boost holiday sales, temporary vending spaces are a growth opportunity for any retailer. Before deciding which venue is best for your business, let's examine some of the main differences between the two.
Carts
A cart retailer is mobile. Carts are able to follow where the shoppers lead. Whether this is to different sporting events, fairs, or busy streets, a cart can be easily moved around. A cart is often smaller than a stationary kiosk, and usually has a lower start-up cost. To launch a cart business, you simply need to invest in your cart, merchandise, and any necessary selling permits, and presto, you're ready to sell.
Mobile carts allow you to sell smaller batches of products and tailor your merchandise to specific events or groups. For example, many successful cart businesses offer fan merchandise at local sports events, seasonal and gift items at fairs, and crafty items at festivals. Since you are in control of when and where your cart is open for business, you can work the space by yourself or with a partner. The trickiest part will be making sure you have all the necessary permits and permissions to sell in each space.
Kiosks
Unlike carts, retail kiosks are stationary. The most common examples are those located inside shopping malls. A kiosk is typically a larger space than that of a cart. Sometimes the kiosk is enclosed and includes room for seating. Depending on the area in which you are looking to set up shop, you can either order a custom kiosk, or rent or lease one through a mall. If you are operating inside a mall, you will be paying a higher rent to cover costs such as utilities and security. Your store will also need to be open whenever the mall is open, which means hiring staff to cover your own personal down time. On the plus side, you will benefit from the mall's regular traffic and patrons.
Lower Startup Costs Overall, carts and kiosks have a much lower start up cost than a full size brick and mortar store. Less merchandise, fewer displays, and a big cut on operational supplies.
Greater Flexibility
Unlike brick and mortar stores, which require branding and consistency, cart and kiosk stores are temporary in nature. You can switch up your products, hours, and anything else with which you would like to experiment. A kiosk will likely have a lease agreement attached, locking you into the space for anywhere from a month to a few years, but with a mobile cart business, you can pick up and put down as it works for you.
Visibility
In addition to flexibility, visibility is a huge advantage for cart and kiosk retailers. As a brick and mortar storeowner, one of the biggest challenges can be getting people through your doors. Mobile cart retailers are travelling where the people are, whether it's flea markets, town fairs, sporting events, and so on. Kiosks are naturally located in busy areas like malls, travel hubs, and tourist destinations. Your products are out on display for everyone to see, and customers don't need to physically walk through your store doors. In most of these situations, passers-by are already in a shopping mindset.
Display
High visibility means you need a top-notch display. Your shop will be in front of many people, but that does not mean they will automatically stop to look at what you have to offer. Bright colors, interesting design, and attention-grabbing products will help draw customers into your shopping experience. Clear signs and pricing, demo and test products, and a clean organized space will make your venue approachable.
Seasonal Sales
The most popular and potentially most profitable time to set up shop as a cart or kiosk seller is during the winter holiday shopping season. Even if you already manage a brick and mortar store, a seasonal kiosk can be an easy way to boost sales during the busy season. You already know your target audience, what products are working well for you, and have some marketing/sales materials. Setting up an additional selling space in another nearby mall or shopping area can help bring in additional sales, as well as promote your year-round business. Whether you are setting up your first business or adding on to your traditional retail space, there are some special considerations for selling during this season.
Market Ahead of Time
Start your marketing efforts a month or so before your scheduled start date. Just like the grand opening of a brick and mortar store, or a show premier, you want to draw people in right away. Since seasonal sales have a limited time frame, you want to hit the ground running instead of spending time after you're already open trying to gain traction.
Stock up on Inventory
Normally one of the advantages of carts or kiosks is being able to test small inventories of different products. However, during the holidays sales will be at a higher volume and with a greater number of people returning to the mall more frequently. There won't be time to restock or test out new products once the season is in swing. Plan ahead by stocking enough product to get you through several months.
Use the Seasonality
A winter or holiday theme will help draw in shoppers and play up the temporal nature of your store. Buyers have a harder time resisting limited times items and offers. Rearranging your products and display features frequently will help keep the interest of shoppers who visit the mall frequently.
Go the Extra Mile
Trying to compete with box or chain stores on price is very difficult, but you can stand out with your products and service. In addition to stocking unique quality items, go above and beyond to create a memorable experience for your customers. Gift-wrap, customization options, and rewards programs will all give your customers a noteworthy first impression.
Protecting your Business
Kiosks provide greater product visibility, but that also means your merchandise is at a higher risk for theft. Follow these tips to maximize sales and minimize shrinkage for the holiday season and beyond:
Simple Display
Your instinct might be to display products on every side of the kiosk, and have many shelf heights. If there is a side of the kiosk that you can't see very well while you are working, try to put signage or marketing presentations in that area, instead of products.
Customers also mainly shop at eye level. Having products on shelves that are high up or lower to the ground will probably not help sales, and are more vulnerable to theft.
Simple, clean displays are not only more pleasing to the eye; they are harder targets for shoplifters. Crowded, cluttered shelves are easier to steal from unnoticed.
Watchful Eye
Installing visible cameras on your kiosk or cart will help deter shoplifters from targeting your business. You can invest in the real deal if you want, but fake cameras are much less expensive and can have a similar effect.
Try to have two people working the kiosk, especially at busier times of the day. If you're distracted with a customer, that is the perfect opportunity for a thief to walk away unnoticed. If you are in an area with other seasonal or kiosk businesses, offer to help keep an eye on their business and ask them to do the same for yours.
Leading Products
Whether you are looking to test out new products for your cart or kiosk business, stock up for seasonal sales, or venture into a new selling environment, Independent Retailer has gathered out top suppliers for cart and kiosk sales…take advantage!
Mad Mags™
Mad Mags™ magnets were created by Dottie Thornton and Julia Mahood, two moms with a vision of making the world a more fun place, one car at a time. Their designs include creative and colorful magnets, also known as car art, for every season. Dottie Thornton tells Independent Retailer, "Mad Mags™ have outstanding visuals for a lighthearted, inexpensive product. One of the difficulties in kiosk selling is marketing. But, if you have a colorful, interactive display, your customers will come to you. People love to stop and laugh at all of the funny sayings we have." Mad Mags™ also has many displays, POP kits, and fixtures available for retailers. "If a new kiosk seller includes our 'Mad Mags™ Magnetic Wall' then the display can be re-arranged and the customer and touch and feel the product which helps to close the sale," explains Thornton.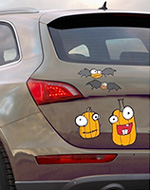 Though their Christmas line is the best-selling, Mad Mags™ have many new products that are great sellers. A new inspirational line has "sold well in all geographic areas and types of stores," says Thornton. "We have also had success with 'Caution New Driver' magnets we designed and a remake of the 'Baby on Board' phrase with a new 'Tiny Toes' magnet," says Thornton.
Thornton advises that the key to every business is a good employee. "Kiosk employees should be aware of the traffic, smile, and make eye contact. I find it is helpful to interact with the product in some way. If you engage with customers and make them feel appreciated, that's the first step."
Mad Mags™
Tel: (404) 451-4612
Website: www.MadMagsMagnets.com
---
Duke Imports
Duke Imports, Inc. is a family owned company based out of Indiana. They offer several lines of linens, textiles, and home goods. "We strive for excellence in all of our lines," says Simar Sethi, V.P. of Business Relations for Duke Imports. "We focus on giving the customer a plush, satisfying, comfortable experience with each and every one of our products." Textiles are a smart choice for cart and kiosk retailers because of their tactile nature. Shoppers walking by will want to touch and feel the blankets and throws on display. "The quality of our products is a big factor in our success," says Sethi. "These are high quality products that everyone wants to bring into their home."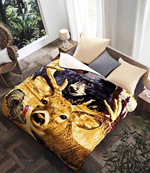 Some of Duke Import's newest and best selling products include Sherpa blankets and throws, one hundred percent cotton quilts, and their Lodge collection featuring deer, bear, and Christmas tree motifs. "Our target market is everyone, so we make a wide variety of blankets to fill this need," says Sethi. "Each person likes something different; therefore, it is essential to encompass a wide range of unique designs, patterns, and licensed images."
Duke Imports
Tel: (260) 665–1100
Website: www.dukeimports.com
---
L&V Creations
L&V Creations are the creators of the original plug-in aromatherapy essential oil lamps. The lamps come in many unique, colorful designs and are all equipped with a dimmer switch to control the light and heat intensity of the lamp. They also carry decorative night-lights, incense burners, essential oils, lotions, and soaps. Natural products and essential oils are gaining popularity as consumers are becoming more conscientious of harmful ingredients. L&V's products can be found in mall kiosks nationwide. Called "The L&V Concept," their cart and kiosk system is a tried and true method that has brought retailers a lot of success. The colorful lamps are perfect fits for a cart or kiosk business due to their colorful and fun designs.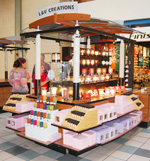 L&V Creations
Tel.: (305) 430-9700
Website: www.scented.com
---
SJT
SJT Enterprises, a gift and décor company that manufactures all of their products in the USA, offers a variety of relatable and appealing wooden plaques. They offer thousands of different designs, images, shapes, and sizes. Best-sellers include dog and cat breeds, Dean Russo licensed designs, beach themes, outdoor themes, inspirational sayings, and surfboard-shaped plaques. Most recently, SJT has added new coloring plaques to their collection.
"Adult coloring books, ones with much more intricate designs than kids' coloring books, have been very popular the last few years", explains SJT president Tim Smith. "Since SJT is the world leader in low cost, USA-made wood plaques, it only made sense we came out with coloring plaques", continued Smith. "The consumer buys it, colors it, and hangs it. It's their own personal work of art." The coloring plaques are available in everyday designs and beach themed designs, which can be name-dropped at no additional cost.
Wooden plaques are an excellent option for a cart or kiosk business because they are great visuals. The products are eye catching, so very minimal signage and visual merchandising is required. Between the animal, nature, motivational, and coloring varieties there is something to appeal to every shopper. SJT offers low order minimums and free floor displays with qualifying purchase.
SJT Enterprises
Tel.: (800) 326-7419
Website: www.ThousandsOfSigns.com
---
EWS Wholesale
EWS Wholesale offers 3D pictures in an assortment of themes including landscapes, nature, kids, and more. Brian Gennello, of EWS Wholesale, says, "It's really a wide ranging appeal. There is something for everyone." North American wildlife pictures are best sellers. "Whether that's deer, owl, moose, or bear, it's our strongest line," continues Gennello. He notes that men are notoriously hard to buy for, and these make great gift items. "We also carry a wide range of Disney and dinosaurs for kids."
Gennello explains that these products are perfect for a cart or kiosk market. "Our products work so well because it's so visual and that's what you're relying on; a split second to get someone's attention. When people see our products they do what we call the '3D Shuffle.' They stop, walk back and forth, and look at the picture. It's an entertaining space for everyone." Gennello continues that cart and kiosk retailers have the advantage with these types of products. "You can't see a 3D picture online. It really comes across in person."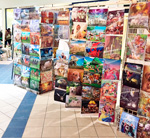 In addition to being an attention-grabber, 3D pictures also have high profit margins. "The most important thing is making money," says Gennello. "Having a high markup that you can achieve is important. I've never found another product that does as well as ours in this market." Retailers generally sell the 3D pictures for three times the wholesale cost.
EWS wholesale offers plenty of marketing and merchandising materials, including stand-alone options and materials to work specifically with mall kiosks. "It really becomes a turnkey operation," says Gennello.
EWS Wholesale
Tel: (607) 329-5868
Website: www.3dddpictures.com