The Smoky Mountain Gift Show returns to the Gatlinburg Convention Center, November 2-5, 2016. "The Smoky Mountain Gift Show has served the souvenir and gift market for fifty-one years," says Amy Dufour of Urban Expositions, parent company of Smoky Mountain Gift Show. "The show is an enjoyable experience for retailers and manufacturers because everything is located in the charming mountain town of Gatlinburg. It is the ideal business vacation setting for spending quality time with customers and industry friends."
The product profile of the show is geared towards retailers who cater to the destination, gifts and souvenir market. "We have nature and wildlife products, green and conservation merchandise, apparel and clothing, home accessories, lifestyle products, gourmet foods, lake, mountain and lodge décor, souvenir, novelty and trend items, collegiate merchandise games, puzzles and toys, holiday and seasonal items, jewelry, licensed products, custom logo products and promotional items, and personalized products," says Dufour.
Buyer Services
During the show, attendees are invited to enjoy southern hospitality with the many free buyer services and amenities. New for this year, Smoky Mountain Gift Show has added a Made in America buying tour on Thursday, November 3rd from 10am – 11am. Eric Flanigan, vice president of retail and leisure for Aramark, will lead the tour. "He'll take other retailers on a tour of the floor identifying Made in the USA product resources to help retailers maximize their sales in this product category," explains Dufour.
The show offers several raffles and giveaways for buyers, including a daily $100 cash price giveaway and daily raffle baskets from exhibitors. Pre-registered buyers have free parking at the Bearskin garage on a first-come, first-serve basis. There is also complimentary shuttle service to the IGES® event in Pigeon Forge.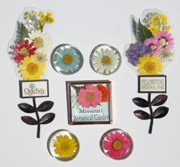 During the show, attendees are invited for complimentary coffee and pastries each morning, and complimentary wine, cheese, and beer each afternoon. There is also a Smoky Mountain Gift Show party Wednesday November 2nd at Blaine's Grille and Bar.
Insider Tips
Jhana Jordan, Buyer Relations Director for the Smoky Mountain Gift Show shares some tips for making the most out of your trade show experience:
1. Avoid the lines. Take advantage of early online registration. Register for the show ahead of time and print out your ExpressPass™ to gain quick and easy access to the show.
2. Download the app. The official show mobile app has complete details on the show, including exhibitor listings, show specials, show features, an event calendar, and more.
3. Set vendor appointments. Book appointments with specific vendors before the show to make sure they are able to give you full attention.
4. Walk the floor. Make sure you leave enough time to walk the entire show. You never know what you will find. That one item may be your next best seller.
5. Take notes. After viewing products and talking to vendors, be sure to jot down notes to reference at a later date.
6. Learn to earn more. Take time to attend the show's free educational seminars. They cover many topics ranging from marketing and merchandising to social media and customer service. These sessions are sure to help you grow your business.
7. Help each other out. Network with other buyers to see what's working in their stores. Discuss everything from trending products to management techniques.