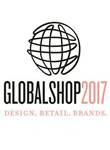 Celebrating 25 successful years in design, retail and branding, Emerald Expositions will present the Global Shop Show at the Mandalay Bay in Las Vegas from March 28-30, 2017. Known throughout the industry for bringing big-name brands like Yankee Candle®, Disney®, Petco®, Sephora®, William Sonoma®, DKNY® and ATT® all under one roof to share their secrets of success, as in years past, this year's newest show is sure to be a record breaker. The show specializes in retail design, visual merchandising and shopper marketing, all with an eye to improving your customer's in-store experience, and your bottom line.
Show exhibitors include companies specializing in fresh ideas for your store including shopper-facing technology, innovative store design solutions, fixtures and lighting, brands, agencies, display fabrics, mannequins, and the list goes on. As an added bonus, the 2017 show is actually 2 shows in one — your registration pass for Global Shop also allows you to attend the Digital Store Show to be held concurrently at the Las Vegas Convention Center, a convenient monorail ride away from the Mandalay Bay location. Offering the latest in digital signs, self-service technology and audio systems, the Digital Store Show is glimpse into the future of retail.
Also focused on what's coming in the near future, Global Shop will once again present a packed agenda of educational sessions. Highlighting the conference schedule, keynote speaker Jacques Panis, president of Shinola®, will present his thoughts on "The American Experience," followed by a Q&A session with WWD editor Meghan McDowell. The conference sessions, sponsored by Fleetwood, begin at 8:30am on Tuesday, March 28, and run through mid-day Thursday, March 30. With topics ranging from marketing to the Millennial and Affluent market segments, overcoming barriers, and multiple sessions on incorporating big ideas and experience trends in your store, attendees are sure to find a session that speaks directly to you.
A show planner and matchmaking tool are also available on the show web site, allowing buyers to arrange their show day to meet with the best possible contacts for your specific store needs.
Interested buyers may register online in advance at www.globalshop.org and check out additional show details.
Global Shop
March 28 – 30, 2017
Mandalay Bay, Las Vegas NV
Tel.: 800-798-5204
www.globalshop.org