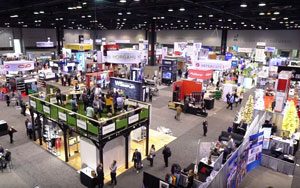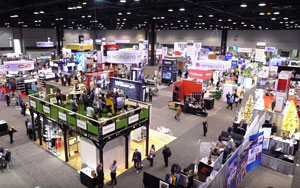 IRCE will be part of RetailX: three distinct shows that are coming together to create an intersection of ecommerce, store design and innovation under one roof June 25-28, 2019 at McCormick Place South in Chicago. Internet Retailer Conference & Exhibition (IRCE), the industry's largest and most well-known ecommerce event, GlobalShop, the largest annual event for shopper-facing retail design, technology and in-store marketing, and RFID Journal LIVE! Retail, the only RFID event dedicated specifically to retail application, have joined forces for this unprecedented trade event
IRCE @ RetailX will feature more than 200 expert speakers, 130 conference sessions, an exhibit hall filled with nearly 600 major solution providers, and a series of networking events, making it the must-attend event of the year for professionals seeking the very latest strategies and solutions in the world of ecommerce. IRCE is the flagship event for the ever-changing e-commerce industry, with attendees coming from over 40 countries around the globe, representing a range of industries in a variety of management levels, including representatives from up-and-coming startups to long-standing retailers. In addition, IRCE @ RetailX attendees will have access to the exhibit halls of the other two events that make up RetailX, giving attendees a 360-degree view of what's happening now.
Main Stage Speakers Who Are Leaders in Ecommerce
IRCE has attracted an impressive line-up of Main Stage Speakers who will share their expertise, experiences and business solutions. Speakers take the Main Stage on Wednesday, June 26 and Thursday, June 27 and kick off starts at 8:30am with Andy Dunn, Senior Vice President of Walmart on "Hitching a Rocket to an Engine, Bonobos and Walmart Take Off." Chip Conley, Strategic Advisor of Airbnb, will follow at 9am speaking about "Inter-Generational: Leveraging the Power of a New Workplace Diversity."
Susan Tynan, CEO & Founder of Framebridge, takes the stage Thursday at 8:15am to discuss, "Five Years in: What I've Learned About Building a 21st Century Retailer," followed by Dan Alarik, CEO & Founder of Grunt Style, at 8:45am on "True Grit" A Warriors' Mettle Build an E-commerce Brand."
In addition to IRCE's Main Stage Speakers, RetailX will feature a keynote address on Tuesday, June 25 from 3-4pm. Doug Stephens, Founder and President of Retail Prophet, will discuss "The Future of Retail in a Post-Digital World."
Educational Programming and Tracks for Every Interest
IRCE is known for its excellent educational programming and workshops, and the 2019 edition is no exception. This year's robust conference agenda features presentations from over 200 executives representing some of the world's most well-known companies and brands. Conference-goers will have the opportunity to choose from multiple tracks, including one geared to CEO's and top executives, one for newer retailers, and Marketing 2.0 Strategies and Online Merchandising. Highlights include: Moon Juice, Red Wing Shoes, Natori and more.
Exhibitors With Solutions for All Ecommerce Needs
Nearly 600 exhibitors will be a part of IRCE's exhibit hall, making it the largest display of services and technology in the ecommerce industry. It is the best place for professionals to experience first-hand the very latest technologies, products and services that are shaping the current ecommerce industry. Exhibitors from a wide variety of services and technology offerings will be showcased, including Fulfillment/Shipping/Delivery, Ecommerce Platforms, Marketing/Merchandising/Social Media, and Customer Support/Order Management/Payments. Top companies such as DHL eCommerce, eBay, FedEx, ChannelAdvisor, Shopify Plus, Rakuten Marketing, Oracle Netsuite and many others will be on site.
Not-to-be-Missed Networking Events
IRCE @ RetailX is the best place to make connections and network with industry peers. Attendees have the opportunity to gather, share ideas, and exchange information at a number of networking events on the show floor.
The conference will kick off with a Welcome Reception on Tuesday evening, followed by a Networking Reception on Wednesday evening, and a "Win the Wheels" Drawing hosted by Internet Retailer on Thursday. In addition, attendees will enjoy a number of networking events and after-hours parties throughout the city.
How to Register
Registration is now open by visiting www.irce.com. Conference tickets include entry into the exhibit hall for all three shows, lunch for each day registered, and receptions on the exhibit floor. Show hours are: Tuesday 8:45 am – 6:30 pm; Wednesday 8:15 am – 6:30 p.m.; Thursday 8:15 am – 4:45 pm; Friday 8 am – 1:00 pm.
About RetailX
RetailX is the only industry event that gives you the opportunity to experience the integration of ecommerce and retail in today's ever-evolving market. RetailX is expected to attract and inspire more than 20,000 attendees and more than 1,200 exhibitors, based on recent trends from each show.
RetailX
June 25 – 28, 2019
McCormick Place South
Chicago, Illinois
www.retailx.com
www.irce.com