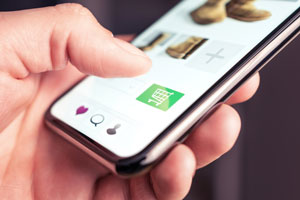 by Nicola Kinsella with Fluent Commerce
"Shopping Centers-as-a-Service" is a relatively new phenomenon that offers customers a fully integrated physical and digital experience that makes shopping frictionless and memorable. It is appealing to brands because it gives them access to insights collected from mobile apps, Point-of-Sale (PoS) systems, loyalty cards and wireless networks, which can lead to a better understanding of customer preferences and decision-making patterns.
For the customer, the experience is made easier with the introduction of more digital options, from buy online pick up in store (BOPIS) and virtual video shopping, to advanced technologies such as augmented reality to better inform purchase decisions. Changing the in-person retail experience for customers and businesses has long been in process. For the past decade, malls and retail centers have become less about literal shopping and more about the greater experience.
In order to stay competitive, shopping centers and their tenants have felt the pull toward operating as an increasingly virtual data-sharing platform that connects directly with consumers to offer creative and engaging real-time personalized experiences. However, with the onset of COVID-19 and the closing of most physical stores for extended periods of time, the criticality of this transition only accelerated. The reopening of retail centers brings new opportunities and a public excited by the chance to experience the enjoyment that only comes from shopping in person.
Transforming the Retail Experience
The intention of shopping centers-as-a-service is to bring customers back into the physical mall or retail center in a way that is unlike a traditional shopping experience. This is accomplished through offering integrated physical and digital experiences that make shopping less of a one-and-done task and more of an experience that consumers will remember and enjoy.
Some examples of this are utilizing smartphone apps to make parking or ordering lunch easier and more enjoyable. Some shopping centers make it easy for consumers to view real-time product information and pricing on their mobile devices. For a public immersed in social media and connected living, these options are attractive because a day of shopping, dining and entertaining can all be done with just a few clicks. Some centers are even putting AI to use, deploying intelligent search tools that allow potential customers to upload photos of fashion items from their phones and locate similar clothing products in-store. These innovative strategies are helping retailers maintain the historically successful business model of shopping centers by introducing modern elements.
Placing Data in the (Shopping) Center
The innovative use and application of data is critical to making these types of experiences a reality for shoppers. Retailers can gather insight on how, why, when and where people buy based on data from different digital tools (i.e. mobile apps, PoS systems, and WiFi). This information can be used to put the shopping experience back in the consumer's control. For example, retail centers and their tenants can use data to create interactive apps for customers that help them plan their visits and give them fingertip-convenience while in or between stores.
Data is also working to bring major brands together in the way of shared logistic services and virtual networks. For instance, low-cost shared logistics services allow customers to purchase items online or in-store with the option of home delivery, in-store collection or from curbside-pickup parking stalls. For some, this also includes enabling an endless-aisle distribution strategy that can deliver in 24 hours or less, helping them to compete more effectively with their online-only rivals. Shopping centers are also leveraging technology to join tenant brands into virtual networks where they can scale services, including fulfillment.
Convenience, Simplicity & Unity
One of the key themes of a shopping centers-as-a-service model is its ability to generate repeat foot traffic that retailers need in order to thrive in the 'new 'normal of today. That is accomplished through creating a convenient, simple, and unified online and offline experience by leveraging data to deliver a personalized and targeted retail experience. In this type of service model, utilizing shared infrastructure is key. Shopping centers more so act as fulfillment or logistics hubs for their retail partners. By blending these capabilities with an array of data-led services, they open the door to new and engaging consumer experiences.
There is no doubt that shopping centers must change and adapt to the new age of consumerism—retailers can no longer act as independent businesses simply sharing a roof. They must work together and embrace data and innovative technology to regain a seat at the shopper's table by creating memorable and seamless experiences. In doing so, shopping centers can draw on their unique experience to bring people safely back together, reinvigorate in-person consumer culture and safeguard the industry for generations to come.