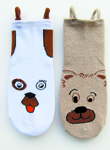 Part of being a parent is providing your children with encouragement. As a father, Ronnie Gesser supports this, "you can do it," training, but understands that the learning experience for a task such as dressing oneself can be time consuming and frustrating. "One day I was watching my four year-old son put on his socks, and it was difficult not to rush him. That's when I and my wife came up with the idea for EZ Sox, a more intuitive solution that would allow him to practice with less hassle." The loops located on each side and at the top of the socks allow for easy grasping and pulling. A printed animal face differentiates top from bottom, so children are not putting on the sock upside down. "We strive to make high quality footwear. All socks are 80 percent cotton and come with seamless toes and a non-skid bottom," notes Gesser. Launching officially in January 2010, EZ Sox footwear was immediately picked up by the television show, "The Doctors," showcasing the product as a training sock for young children.
Training Socks for All Ages
Since interest has significantly increased over the product's year and a half in production, EZ Sox is in the process of revamping its website, designs and offers. While the original designs will remain, such as the popular frog and dog prints, six new designs will be available this fall. A pack of two pairs with two different designs will be available for $4.50 wholesale, retailing for $4.99 a pair. As business has increased, so has the product's targeted audience. "While the idea initially was to provide a type of training sock for smaller children still practicing their motor skills and dexterity, we were soon approached by consumers who thought this product was also well suited to children with special needs, and elderly people who no longer had the range of motion to put on a regular sock," says Gesser.
EZ Sox Adult products are now scheduled to hit the shelves this September, available to retailers in a pack of three pairs at $8 to $9.50 wholesale. The adult version is also high quality and made of 80 percent cotton, with seamless toes and non-skid bottom. The difference in design is in the loops that are easily hidden from sight after pulling up the sock. Gesser notes, "No one wants to appear infirm." The addition of the adult socks also inspired another line called, EZ Sticks. These sticks act as a shoehorn for the socks, attaching to the loop and pulling up the socks with minimal bending. "The motto we follow is, 'I can do it,' and with EZ Sox all ages can easily put on footwear," says Gesser.
For more information:
EZ Sox Inc.
PO Box 771
Chappaqua, NY 10514
Tel.: 212-465-7412
Fax: 914-861-2589
Email: ezsox@ezsox.com
Website: www.ezsox.com