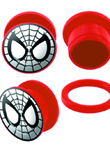 Body jewelry has been in fashion for many years. Yet with modern technology, piercing devices and newly designed jewelry, traditional decorating of the body has evolved from its tribal roots. And while toe rings and navel decorating were once the preferred way to accessorize, ear piercing has come back in a big way. Now, ear plugs are the latest trend in body jewelry. Earlobe gauging provides a large diameter hole in the lobe, where you can wear any kind of jewelry. With proper care and by using good quality body jewelry anyone can get a taste of this new trend.
Trend Towards Licensed Body Jewelry
Another noticeably increasing trend is licensed body jewelry. "Previously, licensed body jewelry only extended to the Playboy line or maybe someone's favorite NFL team. Now, many organizations are interested in licensing out their property for a body jewelry line," notes Joseph Won, licensing manager for SalesOne International. SalesOne has successfully spent a decade bringing its body jewelry lines to retailers that occupy specific niches in jewelry and accessories. Headquartered in Norwalk, CT, SalesOne works closely with nearly 20,000 independent retailers and prides itself on a fully integrated design, manufacturing, sales and distribution system.
With experience in the licensed body jewelry market selling Playboy products, the company decided to add to its licensed properties, carrying a complete line of Marvel Comics inspired body jewelry that became available in August. The new line includes tapers, belly rings, tattoo sleeves, and the increasingly popular ear plugs, highlighting characters, icons or logos of both leading Marvel heroes and villains. According to Won, "People like their villains too." Among the Marvel characters represented are Captain America, Spiderman, Hulk and Red Skull. "The product designs will concentrate on the key recognizable features or elements of each character, such as Spider Man's eyes and the purple and green combo associated with the Hulk," Won says.
No matter a customer's favorite character or jewelry type, independent retailers such as thrift stores, tattoo shops and even mall kiosks can easily market to a growing number of Marvel comic and film enthusiasts by purchasing the licensed line between $2 to $5 wholesale. The 2011 and 2012 Marvel film releases, including Captain America and The Avengers, will turn fans into customers. Retailers can expect to make keystone and more with a suggested retail price of $9.99 to $19.99. SalesOne International, providing a broad selection of 12,000 skus including the Marvel body jewelry, requires a $100 minimum order. A POP display starter kit will be available around the holiday season, displaying the Marvel brand and providing an assortment of body jewelry and characters such as the Captain America dangle navel ring, offered for $3.60 wholesale. Such items as the navel rings and ear plugs are forecasted to be among the Marvel line's top sellers.
And while ear plugs and licensed lines make waves in the market, another industry trend is increasing the sale of body jewelry. Customers are continuing to search for alternative metals as prices of gold and silver increase. For that reason, stainless steel has become very popular. Guy Pineta, marketing director, notes, "Cobalt chrome is new and hot. One steel variation has the appearance of 14 karat gold and, a lot of people really like it." Easy to clean and hypoallergenic, stainless steel ensures the safety and affordability of body jewelry.
For more information:
SalesOne International
151 Woodward Ave.
Norwalk, CT 06854
Tel.: 866-507-2537
Fax: 203-356-9249
Email: info@salesone.org
Website: www.salesone.org