By Marisa Lather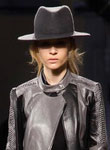 New York Fashion Week (NYFW) Fall/Winter 2014 revealed new colors, shapes and designs that will shake up your product selection, and enhance your customers' wardrobes. As fashion moves away from delicate and dainty, it ventures boldly into bulky looks and strong colors that scream, "Look at me!"
Fur for everyone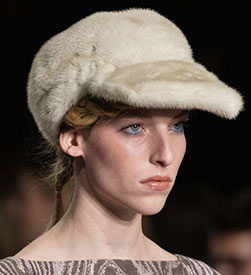 One of the most consistent fashions seen on the runway and streets is fur: fur coats, scarves, bags, hats, and just about everything. Fortunately, there are many fabulous faux options, as well as real. Accessories such as a hat or purse, and detachable collars and wraps are an easily wearable look.
Leather
Leather is a trend from last year that shows no signs of slowing down. Belts and harnesses with edgy hardware detailing such as buckles and zippers were all over NYFW, and add extra pizzazz to an outfit. Leather was also featured in clothing and purses, smoothed out and cut into fringe.
Bulk up
Keeping with the bold fashions and boxy silhouettes of the season, jewelry and handbags bulked up as well. Larger, chunkier pieces with an architectural influence will replace the delicate bangles of seasons past. Choose artistic statement pieces that look one-of-a-kind and can be worn not just for a special occasion, but also as a signature piece.
Be a square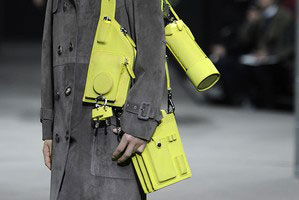 Men and women can both embrace the androgynous square shapes of this season's utilitarian pouches and purses, and carry their items with ease. Rectangular carriers were tucked under the arm, proving you can tote more than just a cell phone and wallet in style.
Body jewelry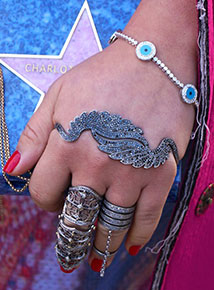 From runway models to fashion bloggers, ornate body jewelry adorned heads, hands and bodies. Necklaces extended down the chest, around the back and down the hips, as seen at Katya Zol. Inset stones and delicately linked chains add detail that fit in with the "traveling gypsy" trend. Jewelry worn in new places, such as bracelets wrapped around the palm of the hand right above the thumb, take center stage, so choose pieces that are less traditional and more intricate.
3D printing
As we move into a time when accessories are more interesting and unique, 3D printed jewelry is gaining popularity. Everything from simple rings to elaborate necklaces complemented outfits on the runway, some of which also were 3D printed. Customized and personalized jewelry will be popular because settings like size, color and design can be chosen.

Hat head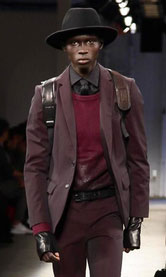 Hats will be everywhere in the upcoming seasons. The flat-brimmed style kept the look of men and women on the runway fresh, as seen in Kenneth Cole and Public School. This accessory can be paired with everything from streamlined suits to boxy coats. Also notably present were visors. Donna Karan and Tommy Hilfiger showed that the preppy half-hat option is making a comeback.
Overall, looks for fall and winter will become more intentional, stronger and bolder. Larger accessories, square-like shapes, and a variety of materials introduce a new way to dress up.