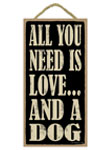 SJT Enterprises, a consumer products company, has introduced a new series of decorative wood plaques with a "primitive" or rustic look to them. Like all SJT's products, the new plaques are made in the USA. The plaques measure 5" x 10." Wholesale price is $2.97 and suggested retail is $7.99 to $9.99.
"We introduced these at the ASD Show in Vegas in March and they were an instant hit," explains SJT president Tim Smith. "This style is very trendy right now and the look goes with any décor. These also have a much lower cost compared to similar ones yet are made in the USA and not in China like the others."
The minimum order at SJT is $100. A free floor display is available with minimum purchase. The firm will be exhibiting at SuperZoo, the National Show for Pet Retailers, July 22-24 in Las Vegas, at booth 12135, the ASD Show August 3-6, in Las Vegas, at booth SL1003 and The Las Vegas Souvenir & Resort Show, in Las Vegas September 17-20.
For more information:
SJT Enterprises Inc.
Tel.: 440-617-1100
Website: www.GreatStoreStuff.com