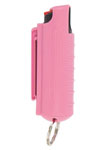 Self Defense Supply distributes a huge assortment of knives, blowguns, stun guns, pepper spray, survivalist gear, security systems and more. While the firm started out selling only self-defense items, it has expanded into other categories and now carries more than 4,000 products. "We offer a wide array of products so that retailers can get everything they want, all in one place, and they don't have to place orders with multiple distributors," explains Randy Ellington, marketing manager. "Plus, we have a low minimum order of only $100, and we do free drop shipping."
Popular pocket knives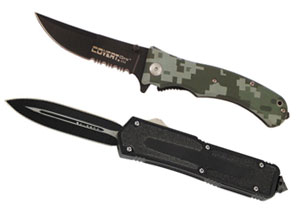 More than half of Self Defense Supply's catalog consists of knives, the majority of which are pocket knives for everyday use, such as opening mail and boxes, and cutting string. The firm also has knives designed specifically for self-defense and tactical use. "We offer a range of styles, types and brands, and we have something for everyone's taste," Ellington states. "We have several top quality brands, including Kershaw, Zero Tolerance and Spyderco, which are all made with top-end steel. Many of our knives are made with cold steel."
Made in USA blowguns
Another top seller this year is the company's selection of Avenger blowguns, all manufactured here in the U.S. The Warrior blowgun kit comes with a total of 40 darts, in four styles: target, spearhead, broadhead and stun, along with quivers to hold the darts. "This is one of our hottest selling blowguns," Ellington reports. "It's a great package that is loaded with value." The Ninja blowgun includes 20 target and stun darts, and two quivers. Eagle Flight comes with target darts. "They are for sport and target shooting," Ellington explains. "You load the dart and propel it out with a puff of air." Targets are sold separately. Avenger blowguns wholesale for $4 to $14, and starter packs are available.

Stun guns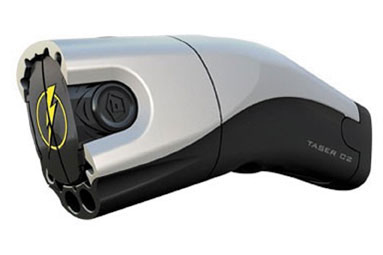 Self Defense Supply distributes several well-known brands of stun guns, including Taser, Mace, and Smith & Wesson. The firm also manufactures its own brand, Crime Halter, and starter packs are available. In addition, security systems are available for a home or business, enabling users to view the premises on a cell phone. The company also sells survivalist gear and freeze dried foods by Wise and Mountain House, for customers concerned about survival and preparedness.
In general, retail is easily double and often triple wholesale pricing, Ellington notes. Volume discounts and marketing materials are available. Retailers are required to fill out an application and create a login to view wholesale prices on the company's website.
ASIA AMERICA
Buyers can visit Self Defense Supply at the ASIA AMERICA show, April 8-10 in Miami, FL, at booth 1309. The firm will be exhibiting here for the first time. "We want to put our products in front of new customers," Ellington shares. "Since we do carry a wide array of merchandise, we fit in with many retailers' product lines."
Where to buy:
Self Defense Supply
1819 Firman Dr. #101
Richardson, TX 75081
Tel.: 972-644-6800
Website: selfdefensesupply.com