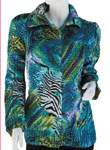 With the fall and holiday seasons rapidly approaching, choosing the right fashions to garner mega fourth quarter sales is top of mind for independent clothing retailers. For an apparel business to thrive, retailers must carry a great selection of the latest styles, colors and designs. In this issue of Independent Retailer magazine, we offer an exclusive look at trending fashions for Q4 2013. In addition, we share what some of the industry's top apparel sources are stocking, to help retailers meet their year-end sales goals.
Apparel designers set the scene
According to breaking fashion news, bold geometrics and big florals in both black and white and high contrast color blocking patterns are frontrunners for sales in the upcoming season. Playful animal prints, such as leopard and zebra, are maintaining their popularity as well. Vivid hues, including emerald, which is Pantone's 2013 color of the year, as well as pink will have staying power, as dresses, outerwear and basic sportswear emerge in these shades.
The chic and slouchy sweatshirt fad is here to stay, with designers showcasing versions often paired with swingy skirts or skinny trousers. Layering of shirts under sweaters, under jackets, is another growing trend that gives retailers the bonus of selling multiple pieces as one outfit. Finally, oversized overcoats and outerwear, often with dropped shoulders, extra-long cuffs and large lapels, complement ever-popular fitted jacket styles.
Jackets, ponchos and sweaters heat up sales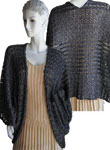 Oriental Apparel Inc. has tapped into today's trends, and offers colorful fitted jackets along with loose fitting ponchos. "For fall, we expect the quilted jacket to remain popular," says owner, Ling Yuan. "We have them in a huge assortment of the latest colors and patterns, including floral prints in bright color combinations of teal, fuchsia and ruby, to name just a few. Being wrinkle free, they are great for travel." The company's new handmade poncho, made of cotton and polyester, is also available in today's fashionable holiday colors, such as eggplant, red and champagne. These pieces wholesale for $24 each.
Another new item designed to warm up sales is Oriental Apparel's knit long sleeved v–neck sweater, complete with built-in bling neckline. "It looks like d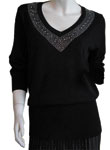 iamonds around your neck, and it will be very popular for the holidays," Yuan points out. Several hot color choices are available, including turquoise, red, pink and black. The sweater wholesales for $20. Oriental Apparel consistently introduces new merchandise in seasonal solids, as well as trending prints in sizes ranging from regular to 4XL. "We have something for everyone, and people love our distinctive merchandise," Yuan reports.
One wardrobe staple expected to maintain its popularity in Q4 is the company's popcorn line, which is smooth and soft, and ideal for traveling. Lightweight and easy to hand wash and dry, popcorn clothing is small in its natural form and stretches to fit almost anyone. Tops are made of 100 percent polyester and come in a wide variety of colors, including slate blue, emerald green, lavender and bright red. "We add new colors all the time," Yuan notes. "Since one size fits most people, these are great gifts." The wholesale price for popcorn tops is around $5 to $8.  Oriental Apparel's suggested retail prices are generally keystone and up, and the minimum order is $200. To learn more about the company's latest introductions and proven sellers, visit Oriental Apparel at ASD booth C4643, August 4-7 in Las Vegas.
Colorful clothing fits consumers to a tee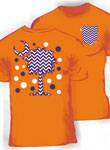 Much like Oriental Apparel, Simply Southern Tees is dedicated to creating fashion forward clothing. "We stay on top of trends to produce popular t-shirts," states Ginger Aydogdu, owner. "We listen to consumers and use feedback from our customers on what is selling well, and what things they would like to see. They help drive what we make." All design work and printing are done in the USA at the company's Greensboro, NC, plant.
"Vivid colors are strong right now," Aydogdu remarks. "We are seeing a lot of bright colors like berry, hot pink and coral. As of right now, zebra is still strong," she confirms. "Women are still drawn to that, and we carry zebra in all of our lines. The chevron, or zigzag pattern is becoming very popular, and we are including it in our designs. We are also seeing a strong attraction to camouflage prints."
Simply Southern Tees offers three main lines of t-shirts for women. The Simply Southern products feature images and phrases that depict fun southern themes. One example is its trendy bright pink shirt displaying a palm tree under the moon, with the phrase  "Carolina Girl" underneath. The Country Chick line is similar, offering sayings such as "Country Chicks Look Cute in Pink, Better in Camo." Faithful Girl, the Christian themed line, shares inspirational sayings such as "All things are possible," on brightly colored shirts. Simply Southern Tees recently introduced a selection of men's shirts called Country Things, incorporating outdoor and sports designs, as well as Christian sayings. The company's t-shirts are made of the highest quality 6.1-ounce cotton.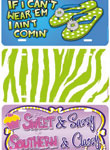 T-shirts wholesale for $7.50 and retail for $16.99 or more. "Many of our items are impulse buys, because they are a low dollar amount," Aydogdu continues. "When retailers keep our products by the register, consumers add them to their purchases. They are easy sells." Launched in 2003, Simply Southern Tees also sells related gifts and fashion accessories, including cell phone cases, license plates, handbags and wallets. Its clothing and accessory items sell well in a variety of stores, including gift shops. The minimum opening order is $300, and the lowest reorder is $100. Retailers can buy the sizes they need, as there is no minimum per design. Custom printing of a saying or a store name is also available. With a custom order, the smallest order quantity is 60 pieces.
Department store returns reflect latest looks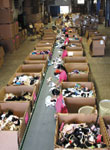 Keeping up with the latest trends is key to American Eagle Trade Group. "Consumers are always looking for sportswear and athletic apparel, and sweatshirts are very popular," according to Ryan Frankel, marketing manager. "We expect bright colors, as well as black and white to continue to be popular for fall and holiday sales, and denim is always a big seller."
American Eagle Trade Group stocks an inventory of America's most recent fashions, brands, styles and sizes, because it has exclusive contracts with very large U.S. department stores. "We get all of their customer returns, overstocks and irregulars clothing." Because trends continue from season to season in many areas, such as animal prints and vivid colors, retailers are ensured of trending merchandise at the lowest possible prices. "The majority of our products are good quality clothing that customers returned because they did not fit, or the customers changed their minds. We go through the merchandise and remove the very damaged items, and we only sell the wearable clothing."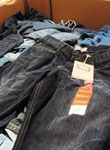 American Eagle Trade Group has been in business for more than 25 years, and has a minimum order of one pallet, which wholesales for around $1,000. The majority of the company's business is by the truckload. Typical buyers in the U.S. have been retail chains, and the firm recently broadened its domestic market to include independent retailers. Items wholesale for $1 to $4 apiece, and prices are 75 to 90 percent off original retail prices.
As clothing retailers plan for fall and winter sales, it is time to evaluate product choices for the upcoming seasons. Leading fashion designers point to successful sales of comfortable as well as fitted styles, in a range of striking animal and floral prints and dynamic colors. Independent Retailer's featured wholesalers are well equipped to provide fun and fabulous quality merchandise at competitive prices.
WHERE TO BUY:

Oriental Apparel Inc.
1717 Ranger Ave., Unit D
Deland, FL 32724
Tel.: 386-383-2618
Website: www.wholesalecentral.com/orientalapparel
Simply Southern Tees
209 Creek Ridge Road, Suite E
Greensboro, NC 24706
Toll Free: 855-219-4399
Website: www.simplysoutherntees.com

American Eagle Trade Group
3690 NW 62nd St.
Miami, FL 33147
Tel.: 305-634-4766
Website: www.eagletrade.com