By IvyLee Rosario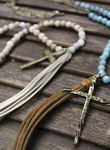 From delicate, small pieces and toe rings to layering and stackable bracelets, jewelry trends for the upcoming fall season are all about making a statement by keeping it simple. With festival season ending with summer, jewelry will shy away from fringe and chunky items and transition back into dainty transformable pieces suitable for day or night no matter the occasion. "People are looking for delicate jewelry and small pieces with glass and semiprecious stones," says Sharee Kowalski of Pampered Princess. "Statement pieces will always be in, but people will be looking for plain metals and a layered look." In the United States, the jewelry industry for retail was estimated to have grown 10.7% from the previous year, with a 6% sales increase. The total value of the industry is $71.3 billion. With numbers like these increasing every year, jewelry is one category of merchandise that will always provide the opportunity for growth.
Jewelry being an ever changing product amongst customers, manufacturers find it important to stay ahead of the curve and make sure they are producing the right items for their retailers in order to get the most sales. For the Welman Group, this is no different. "We are constantly searching for new and popular styles," said Corey Simons, sales manager. "It is always good to be setting the trends rather than following the pack. You have to be aware of what everyone else is doing, but it is nice when you hit your own stride and you start something new yourself."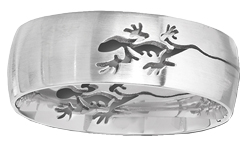 One of the Welman Group's most popular materials is also a trend in itself: silver. As seen at fashion shows from designers such as Chanel and Louis Vuitton, silver is a staple element in jewelry design. "Sterling silver is one of the most classic metals on earth. It is a precious metal," says Simons. "People who love silver, really love it. A lot of individuals love silver more than gold. If you offered them a gold ring or a silver ring, they take the silver." While gold is still a major player in the industry, silver has made its way up the ladder to take first place.
In addition to silver being the go-to metal in jewelry, it is the products that are made from it that are all the rage. "Customized charm bracelets in silver where hot 14 years ago and now they are back," said Heather Zinkl, sales manager at Sun Fashion Designs Inc. Aside from customizable bracelets, items such as toe rings and wire wrapped bracelets are becoming increasingly popular with customers. "We see a lot of personalized monogram jewelry, as well as long layered necklaces and stackable bracelets," said Caitlin Lee, buyer and showroom manager for Judson & Company. "Folks are really looking to stick with the retro look with layering, all while keeping the pieces minimalistic." When it comes to color, most customers are looking to stay on the neutral end for the upcoming season Navy, rose gold, sapphire, ruby, maroon and chocolate brown are all must haves for the second half of the year, pairing perfectly with the fall colors in everyday fashion. As for earrings, ear jackets, crawlers and peekaboos are standing out because they are not the same old earring styles, but provide a unique look and texture instead.
If you are thinking about selling jewelry in your store, know that the profitability of carrying this merchandise is significant. Jewelry is and will continue to be a staple piece from anniversaries and birthdays to impulse buys or special events. "I would say gifts are the main thing. Any holiday or birthday or special occasion — jewelry is perfect for any age, size, and shape person," said Lee. "Impulse buyers and people who are wanting to get the whole look with their outfit and have something to go with the clothes they are buying." The three holidays with the largest percentage of jewelry gift giving are Christmas, Mother's Day and Valentine's Day. Seasonality is especially important when selling jewelry, because although these pieces are for everyday wear, these items have always been exceedingly popular when it comes to showing affection for a loved one with a gift.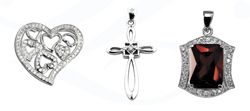 In terms of customer basis, women lead the race with buying a larger amount of jewelry than men. Customized jewelry is especially popular with the younger crowd because they can personalize it however they want, and give the item to their mother, grandmother, siblings and friends. "There are a number of customers that do personalization. They buy blank from us and they will do custom stamping and engraving work," said Jack Tejavanija of Teeda. "That is a big theme this year, we are getting a lot of orders in. This ranges anywhere from etsy sellers to bikers." Zinkl agrees, saying that although there will always be one trend after another, customization is something that never seems to go away. "The customized trend is really popular. We do stamping, pendent stamping, initial pendants and of course charm bracelets." Remember that your customers will be looking for the best service, sales knowledge, product quality and store reputation when looking to buy, as 50% of participants who were surveyed agreed according to BrandonGaille.com.
Although the market can become competitive, Tejavanija says that being triumphant within the jewelry industry just takes dedication and knowledge of your merchandise. "It all depends on your product line. Some pieces can get a big mark up while others may end up at a low cost." Jewelry manufacturing will always be available and will provide results for any retailer looking to get into the industry or expand their footprint. In fact, specialty jewelers are losing market share to independent retailers with every passing year. "I have been doing this for 25 years and I am still selling," said Kowalski. "Retailers can do really well with jewelry and can get a large amount of product for little, depending on their area and customer base. There will always be buyers out there willing to pay for jewelry. We are not going anywhere anytime soon."