By Rachelle Wilber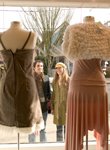 Retail is both an art and a science. Retailers know that product displays must be creatively presented, while adhering to basic human perception and behavioral habits. In 2014, the U.S. retail industry had over three trillion dollars in sales. Retail offers excellent profit potential, but to access this, retailers must have properly designed product displays. Below we explain five different ways to drastically improve your product displays' effectiveness.
Store Layout
Almost all shoppers naturally turn right when entering a store. This means that the first thing they see will form their impression of the store and products. Therefore, this first display is critical to attract the customer's attention and pull them into the store. Recommended items for the "power wall" include new, seasonal, high demand and high profit items. In addition to this, analyze customer traffic patterns to ensure that the layout of the store encourages a smooth flow from start to finish.
Use a Theme
While some retailers like to spice things up with contrasting display styles, it is a good idea to stick to a single theme. Having coordinated and consistent product displays create a comfortable atmosphere for the customer. Display styles, whether formal or informal, can still have decoration variety. Using familiar themes and display locations will allow returning customers to easily find the products they want.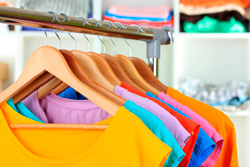 Wooden Hangers
Many garment retailers prefer to both dress mannequins or stack and fold clothes on tables. However, specialty hangers, available from companies like National Hanger Company, are an excellent way to create a sense of style and class. For example, customers will probably not have a mannequin at home or enough room to openly stack their clothes. Therefore, something like a wooden hanger presents the garment in a natural and simple state. Keep in mind that hangers come in a variety of materials and styles from wood, plastic, metal, etc. Be sure to pick the right ones for your setting.
Movable & Temporary
Consider using more movable and temporary displays. These offer flexibility and the opportunity to adapt to customer buying behavior. Customers are finicky and not every display will be a success. Displays that are movable and temporary allow the retailers to discover what works best through trial and error. In addition to this, using permanent displays is a must because nobody has the time and energy to constantly set up displays. 
Encourage Creativity
While not everyone has creative talent, many people have a good eye for quality and style. Empower employees through encouraging them to provide new ideas and feedback. Storeowners could even have a contest where employees compete to create the best store display. The winner could be rewarded with having their display used in a high traffic area. This would increase employee satisfaction while presenting a family style atmosphere to the customers. Also, consider having an expert review the store for professional feedback.
Maximizing your potential for your product displays can be reached by following these secrets. When a product may not be reaching the success you were hoping for, don't give up on the profit margin and slash the price quite yet. Revisit these steps to see what you could improve on.