By Brett Kolinek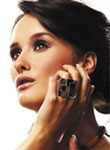 As we look forward to the Fall/ Winter shopping season, independent retailers are getting ready to update their inventories with the latest trends in jewelry and fashion accessories. Many retailers are wondering what the new hot trends will be, and it is impossible to choose just one single trend in jewelry and accessories.
There will be multiple conflicting trends this season, like big and bold pieces, colors and textures, plus complex, simple and elegant designs. The versatility of jewelry and accessories can change the statement of any outfit, and specifically reflect the wearer's individual personality or mood, and that's always in style. During the "bundling" season, jewelry and accessories do not need to take a back seat. Look for creative zones for display, like wearing collar necklaces over turtlenecks, bracelets over long sleeves, and broaches on bulky sweaters and winter coats. This season is also the time for earrings to shine.
Suppliers forecast trends
As a leading trade show owner and producer for over 65 years, we think a few of our leading suppliers can provide the best advice to buyers about trending items they should be looking for, and what to add to their stock for the Fall/ Winter season and into 2015. According to What's Hot in Fashion Jewelry, this company sees upcoming trends as items with long tassels, fringed necklaces and earrings, the wrap-around, and layering of bracelets. At the same time, their vintage collection continues to grow.
Alex Enterprises agrees that layering is still the rage, and it doesn't end at the neckline. They say that there is no such thing as one bracelet on an arm, and necklaces made from a variety of metals include show-stopping pendants of every kind. In addition to the tassel/fringe trend, jewelry and accessories are pushing the vibe of art and sculpture, ranging from minimalist to vintage-style to handcrafted and hand-painted, to abstract shapes and whimsical designs.
The bottom line for retailers is not to look for a single trend, but to offer their customers a fun and diverse shopping experience, so they can find that "statement" piece, unique designs or everyday simple options. Helen Brett's gift and jewelry shows do exactly this, within a one-stop-shop environment, offering a large selection of suppliers and designers of fine and fashion jewelry and accessories.