Smart apparel retailers often carry a mix of traditional and trendy styles. Fashion forecasts for Spring 2014 include a continuing love affair with a few of last year's favorites, such as animal prints and classic black and white combos. In addition, retailers will see expanded offerings of knitted tops and bottoms in bold prints, as well as cool solids. Also popular with many of today's designers are boxy, cropped jackets and tops in a plethora of prints; billowy wide leg trousers; and feminine tea-length dresses and skirts. A rainbow of pastels will be in vogue, from minty green to delicate lilac, along with stark stripes and fun florals.  Independent Retailer offers an exclusive look at the latest fashions from top suppliers, just in time for spring.
Boulevard Apparel Group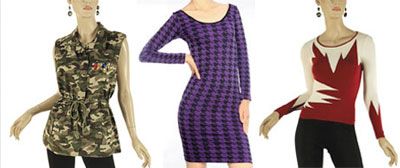 As a leading seller of branded and non-branded clothing at clearance prices, Boulevard Apparel Group is on trend with a large assortment of knits and woven apparel in the hottest looks and colors for spring. "We have many styles of knit shorts, dresses, mini skirts and bottoms in several colors, and we expect them to be top sellers this spring," states Eugene Kaplan, a partner. "Black and white prints are dominant going forward, and we anticipate that several patterns in this combination will be popular as well." Boulevard Apparel offers an array of tops, bottoms and dresses in other stylish patterns such as houndstooth, vertical stripes and stripe/crisscross patterns, and camo. While wide leg trousers make a bold statement, skinny pants will remain a staple in every woman's wardrobe, Kaplan predicts, and Boulevard Apparel maintains a large assortment in several colors and prints. The firm also has an inventory of feminine tops with asymmetrical hems and bared shoulders, and short sleeved and sleeveless tops with decorative lace, applique, drawstring and beaded chain around the neck and sleeves. Boulevard Apparel has no minimum dollar order, but retailers must buy merchandise as packaged, which is generally six or 12 items per pack. "We have a great selection, and the best prices in our industry," Kaplan notes.
Oriental Apparel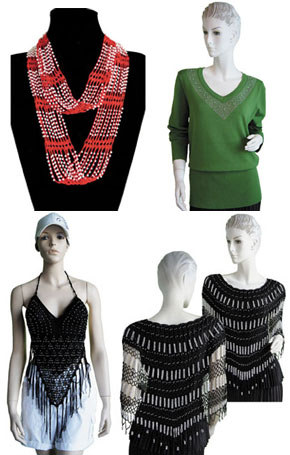 Offering both favored and fresh looks at affordable prices, Oriental Apparel Inc. has handpicked a broad selection of clothing for the upcoming season. Owner Ling Yuan expects ladies' tops with decorative details to be popular, and has brought in a large selection of lightweight shirts with beads in several styles. One fun look is the "beaded hot top with triangle," which is a halter top with fringe along the bottom. It is available in several sought after colors, including teal, pale pink, lime green and bright orange. Another beaded look that capitalizes on multiple trends is a knit spaghetti strap top that comes in a variety of black and white patterns. Oriental Apparel also sells beaded Latina tunic tops and beaded triangle shawls, which are sheer and elegant, and can also be worn as scarves. An ongoing favorite Yuan expects to remain popular in the upcoming months is the popcorn shirt. Ideal for traveling, these shirts are lightweight, easy to hand wash and dry, and they stretch to fit almost anyone. Popcorn tops come in a wide variety of colors, including slate blue, emerald green, lavender and bright red. "We add new colors all the time," Yuan points out. The wholesale price for popcorn tops is around $5 to $8.  "We also have nice handmade capes which we expect to sell well in spring," Yuan continues. They are 35 percent cotton and 65 percent polyester, and have silver-like threading. Wholesale is $24. Retail prices are generally keystone and up, and Oriental Apparel's minimum order is $200.
Milan Clothing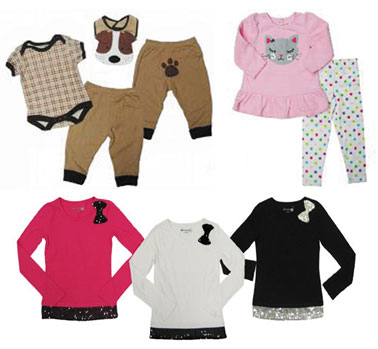 Milan Clothing Inc. launched in 2001, and sells first quality merchandise, primarily for children. Around 90 percent of the company's clothing is in girls' sizes 4 to 14, and boys' sizes 4 to 18. There are also some items available for infants, toddlers and men. The firm manufactures its own line of clothing, and also sells closeouts. "We produce basic necessities in kids' clothing, like school uniforms, pants, tops and denim jeans, and we buy overstocks from overseas and resell them to the secondary market," explains Sheryl Paras, office/sales manager. Milan Clothing's denim styles are basic, but each season the firm enhances the look with fashion forward details. "We started out with plain skinny denims, and because of the trends we added rhinestones, and then added adjustable lace," Paras shares. "We add little tweaks every year, depending on the demand. For the February OFFPRICE Show, we will have around 6,000 printed leggings, which is a trend tweens started last year. Normally trends with tweens last a year to a year and a half." The company also offers great customer service, Paras adds. "We do everything on a personal level, even if our customers order online. Everyone, regardless of size, gets star treatment. If an item is not right, we will exchange it or issue a refund." The minimum order is the box size, which is generally six pieces for items the company manufactures, and a 24-piece case pack for closeout merchandise. Milan Clothing will also drop ship.
SOB Clothing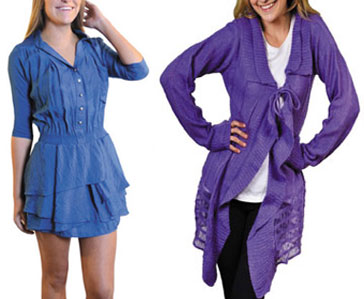 SOB Clothing Inc. is a wholesaler of fashion apparel for women, men and children. The company sources branded and non-branded off-price merchandise in several categories, including dresses, tops, bottoms, activewear, plus sizes, intimates and swimwear. SOB buys excess inventory, cancellations and closeouts, and wholesales in bulk quantities at discounted prices. The company has acquired a large assortment of today's trending wide leg pants, in hot solids such as coral and royal blue, and prints like black and gray. They wholesale for $7.50 a pair. Another look expected to be popular in upcoming seasons is the strapless dress. SOB Clothing offers strapless dresses in several designs, including a black flowing scarf style skirt with gold bodice and sequined yoke that wholesales for $8.50. A top that incorporates several current looks features a round neckline, cap sleeves, hi-low hemline and leopard print. The firm also has items in chevron and other animal prints that are expected to continue to sell well this spring. SOB is also stocking lots of fun and feminine apparel with ruffles, lace, peplum and cutouts. Today's hot trends also translate to kids' wear, and the company has kids' tops and bottoms with stripes, dual tones, dots, plaids and animal prints. Wholesale for kids' tops starts at around $6 each. While there is no minimum order, special discounts are applied to high volume purchases.
Steal Deal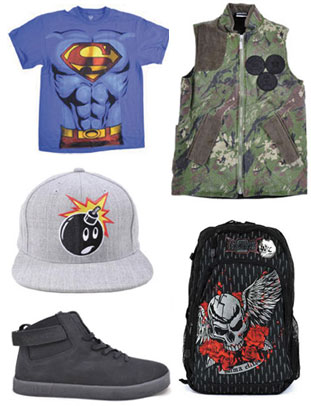 Merchants looking to carry edgy apparel this spring should consider hip-hop and urbanwear wholesaler, Steal Deal. Brothers Michael and Ebby Davood launched the company in 2002, and they now carry around 2,500 items. The firm's apparel line includes hats, shirts, hoodies, jackets, pants, socks, shoes and accessories such as sunglasses and backpacks. Products are both branded and non-branded, and Steal Deal is constantly searching the market for the latest trends from the most popular designers in urbanwear. The firm carries Adidas, Finally Famous, The Hundreds and Filthy Dripped, to name just a few brands. There is also a line of licensed printed tees for men, women and children that includes Marvel, Looney Tunes, Ford and many others. New arrivals include Trukfit hats, Baby Phat pants and The Hundreds hoodies. The urban customer wants to be noticed, Ebby Davood says. The hip-hop market moves quickly, and Steal Deal does research to stay on top of changes.  The company does not have a minimum order. 
From figure forming knits and ultra feminine tops, dresses and skirts, to boxy, cropped jackets and outrageous urbanwear, indies have many options to build or supplement their inventory. The apparel industry is constantly fluctuating, and retailers that go along for the ride can find it exhilarating and lucrative. Learn more about Boulevard Apparel Group, Oriental Apparel, Milan Clothing, SOB Clothing, Steal Deal and other apparel suppliers at the OFFPRICE Show, February 16-19, at the Sands Expo and Convention Center in Las Vegas.
Boulevard Apparel
Toll Free: 866-967-5919
Website: www.blvapparel.com
OFFPRICE Booth 3223
Oriental Apparel Inc.
1717 Ranger Ave., Unit D
Deland, FL 32724
Tel.: 386-383-2618
Fax: 386-740-0080
Website: www.wholesalecentral.com/orientalapparel
OFFPRICE Booths 3100-3103
Milan Clothing Inc.
Tel.: 323-265-7330
Website: www.milanclothinginc.com
OFFPRICE Booths 723-725
Fashion House LA dba SOB Clothing
1504 S. Main St.
Los Angeles, CA 90015
Toll Free: 888-958-6467
Tel.: 213-749-2324
Website: www.fashionhousela.com
OFFPRICE Booth 917
Steal Deal
5716 Alba St.
Los Angeles, CA 90058
Toll Free: 800-416-6149
Tel.: 323-581-8051
Website: stealdeal.com
OFFPRICE Booth 2823
OFFPRICE Show
175 N. Patrick Blvd., Ste. 180
Brookfield, WI
Tel.: 262-782-1600
Fax: 262-782-1601
Email: Online form
Website: www.offpriceshow.com