By Marisa Lather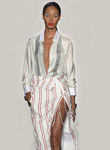 Whether leading a meeting at the office on Monday or brunching with friends on Sunday, young professionals are looking for hip and appropriate fashions. Spring 2014 fashion trends can be mixed with classic work clothes to make the daily grind more stylish. Adding a few of the pieces from the list below to your merchandise selection is a surefire way to help your customers be the best-dressed man or woman in the room. Fabulous styles for women include the shift blouse, spring jacket, dress trouser, contrast button down shirt, midriff and more.
Shift blouse
The sophisticated shift blouse is easy to wear, flattering and versatile. Dressier than a t-shirt but just as comfortable, it is the stylish new go-to piece, especially on the days a woman wants a little extra breathing room. This boxy top is effortlessly classy when worn with a form fitting pencil skirt, and can also help balance out a voluminous skirt. Look for details in necklines, textures and prints.
Spring jacket
Layers are the building blocks of an outfit, and the jacket is the final touch. Go boxy and cropped, or longer and streamlined to keep warm on chilly spring nights. Boxy jackets work with a variety of outfits. They add a statement when worn with a form fitting dress or a pair of skinny jeans, and like the shift blouse, can balance out a fuller skirt. The new take on the longer blazer is paneling or color blocking, and a collar or lapel is dramatically absent. Whichever you choose to sell, make sure it is in a light fabric, and urge your customer to try wearing it caped over their shoulders.
Dress trouser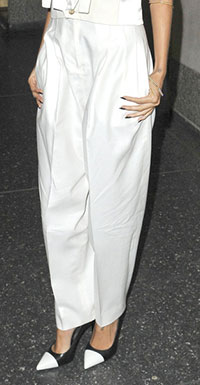 The perfect spring pant keeps the breeze off your legs and complements the new era of cropped and boxy tops quite nicely. Whether you go for the billowing wide leg menswear look or try the sleek tuxedo style, more attention is being paid below the waist this season. A daring runway trend popping up more on the red carpet is pairing a dress over a set of trousers.
Contrast button down shirt
The classic button down shirt is back and ready to party. Continuing with the menswear look, the color blocked collar is Spring 2014's answer to the 2013 embellished collar. Worn fastened at the top, the rest of the buttons can be closed for a polished, professional look, or left unbuttoned halfway over a bodycon dress to play with the new trend in bulky silhouettes. Double points for fancy cuffs, too.
Athletic
A cross between the deliberate pleats in a cheerleader's skirt and the lengthening stripes of a track star's jumpsuit are what the new athletic tone is all about. Comfortable to wear, this style is nontraditional with a hint of sporty-meets-sophisticated. Play with the weight of the fabrics, and pair your track pants with a breezy top and heels for an ultra modern weekend look. Mesh overlays, reminiscent of gym shorts, are a sexy way to participate in the trend.
Midriff baring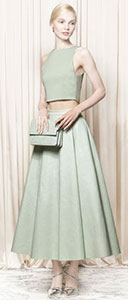 Midriffs have never been hotter. Offer customers a range of options in solids, graphics and prints. This is a weekend only look. Never pair your cropped top with workwear, no matter how cute the outfit.
Tea length skirt
Flirtier than knee length and more hip than last year's maxi, the new way to wear your skirt is the ladylike tea length. Sell options in soft, flowy fabrics for a modern approach that can be paired with a strappy sandal and a crop top.
There are some great trends for men, too. Just a few are the popular camo pattern, a new take on the double-breasted blazer, and lots of cool accessories.
Camo
Camouflage is making its way onto everything from suits to accessories. Different shades, shapes and sizes of this pattern allow room to show personality. Whether it is the classic, military look or an artsy, interpretive version, there is something to fit all your customers' styles.
Double-breasted blazers
The jacket has never quite made a statement like this. In 2014, expect to see floral patterns, fun buttons and more colors. If the volume of these jackets is a little loud, try a fun pop of color in the piping or lining.
Accessories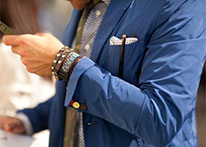 Men are fine-tuning their outfits with a variety of accessories. Bracelets, necklaces, lapel pins, watches, hats and mirrored sunglasses are appearing on men everywhere. Guys want more to play with, and accessories are being paired with everything from business suits to weekend wear.
Trendy, suitable fashions for men and women have never looked better. Now that work clothes are being updated with 2014 trends, retailers can provide style for the office, one cubicle at a time.