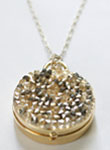 Vienna Victoria has introduced a jewelry line with a secret. Inside each fashionable and originally designed ring, bracelet and necklace is a compact mirror and lip color, making this everyday necessity portable and convenient for women. The makeup is made in the USA, and the jewelry is designed in New York. Although the line was just introduced in April 2013, it has already made it to the Emmy Awards. "We were invited to be in the celebrity gift bags at the Teen Choice Awards, and Breaking Bad's RJ Mitte was there with his mom. She fell in love with our Madeline ring, and wore it at the Emmy's this year with her Armani dress," shares Satin Van Cleef, designer and founder of Vienna Victoria.
Rose gold, Swarovski crystals & faceted stones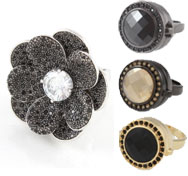 Vienna Victoria's jewelry is designed in yellow, white, rose and black gold over bronze, and made with Swarovski elements. The company's refillable lip color ring is available in two styles, and sold in sizes five through nine. Madeline is a floral design cocktail ring that contains more than 200 crystals, and retails for $120. Vienna Victoria's Chic ring is available in a variety of colors and metals, such as a midnight black faceted stone surrounded by Swarovski crystals, set in white gold. It retails for $75. The refillable lip color bracelet is available in two styles. The multi-strand pearl elastic bracelet has a crystal rock center and retails for $140. The firm's Chic bracelet is available in assorted metals and colors, and retails for $120. The Heirloom Chic bracelet is made of on-trend rose gold with Swarovski elements, around a faceted stone of midnight black.  The Crystal Rock necklace is on a yellow gold chain, and retails for $80. The wholesale price is half of the retail price for all products.
Six colors, from clear to vibrant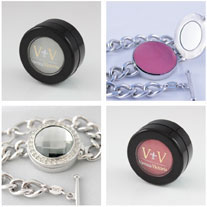 Glam Gloss clear lip gloss is included in each product, and additional colors are available, including Rockin Royalty (red), Freakin Fabulous (neutral), Boardroom Bombshell (a hint of color), Baby Doll (a bit brighter) and Violet Vixen (really pops). Bracelet pans wholesale for $8, and ring pans are $6. Lip gloss is formulated with ingredients such as shea butter, aloe, and vitamins A, C and E.
The idea for Vienna Victoria came to Van Cleef when she was on her way to a New York Yankees game. "I didn't want to carry a bag, yet I always need lip gloss with me. I didn't want it bulging out of the pocket on my skinny jeans. I thought the best way to carry it would be on my jewelry, and I knew I had to do something with this concept."
The minimum order is $600, and point-of-purchase displays are included with orders. Vienna Victoria is offering Independent Retailer magazine readers a special on first time purchases, and will include an extra lip color of the buyer's choice. Orders generally ship within one to three business days.
Vienna Victoria
1050 Calle Cordillera, Suite 103
San Clemente, CA 92673
Tel.: 949-633-5436
Website: viennavictoria.com