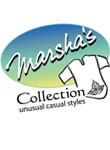 Marsha's Collection is a line of soft apparel, including T-shirts and fleece tops, often with botanical, oceanic and nature designs. Reflecting the vision of artist Marsha Holler, the clothing is cut, sewn and printed at Great Graphics in Dover, DE.  Bill and Marsha Holler, husband and wife as well as professional partners for more than 30 years, own and operate both businesses. Marsha focuses on designs and sales, both wholesale and at the couple's upscale boutique in the coastal town of Lewes, DE, while Bill is charged with quality control and timely production.
Sun & Moon, Sea Turtle & Fern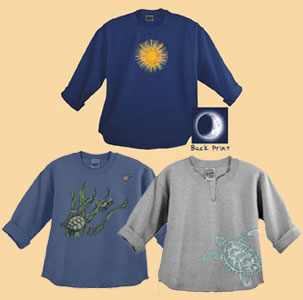 "Women want comfort and style, and it has to be casual," Marsha Holler, president of the company, states. One of Holler's latest fleece fashions is a navy blue body with a sun on the front and moon on back. "It is going to be a very popular item. Women look at it and swoon. I also just added new sea turtle and fern designs." Marsha's Collection is available in misses sizes, in several proprietary styles. "I take a T-shirt and trim it to hip length, and I call it my Trim Tee. My most popular style is my Trim Fleece. I took the band off the bottom of the sweatshirt, and it is a lot more flattering and stylish than a regular sweatshirt, yet still very comfortable. It has a cuffed three-quarter sleeve, which my demographic of baby boomers loves. I also do a three-quarter cuffed Trim Tee. For my Elfin design, I took a basic T-shirt and cut the hem on a diagonal. That is really popular at beach resorts," Holler explains. V-neck T-shirts and tank tops are also available.
"It is important that my wholesale customers know that I am in their shoes," Holler adds. "My retail store is my testing ground. It is where I figure out the prices, styles and colors that will go to the wholesale market. By interacting with my customers, I get a sense of what will be popular."
Only nontoxic, water based inks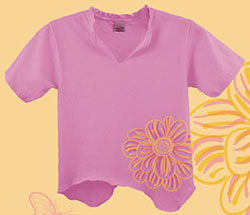 In addition to creating flattering and comfortable styles with exclusive designs, the Hollers employ a superior printing process at their screen printing shop. "Something that is important about Great Graphics is that we use strictly water based inks," Bill Holler, secretary and treasurer, shares. "They clean up with water instead of solvent. Many other screen printing companies use solvent based inks, but we do not want a toxic work environment. We want our workplace to be healthy. We have noticed that a lot of the big companies like Nike are switching over to water based inks, because it is more fashion oriented." Marsha Holler adds: "It gives our garments a real soft feel. If you touch the print, it does not feel like a piece of rubber on top of the shirt, which used to be the case in many basic printed T-shirts. Water based inks soak into the fabric, and it is a much more fashion forward look."
Marsha's Collection is competitively priced for mid-range goods. The company's apparel sells well in resorts and destination attractions, and Great Graphics will name drop. The minimum order is two dozen pieces per graphic design. The Hollers will be exhibiting at the Grand Strand Gift & Resort Merchandise Show in Myrtle Beach, SC, December 8-11, at booth 1129.
Marsha's Collection
112 Front Street
Lewes, DE 19958
Toll Free: 800-338-4018
Website: www.wemakenicestuff.com