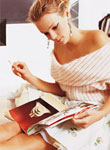 With the New Year just days away, spring apparel trends are on many retailers' minds, and a number of hot trends for 2013 are coming into view. From across the country, small businesses specializing in apparel are chiming in on what they see happening in retail.
Arlene Turner owns New Beginnings, an independent consignment and retail store located in Cameron, MO. The store carries both department store and designer apparel, and clients consistently reach for denim and tops at any time of year, Turner notes. Of late, customers are looking for items that can work through a number of different outfits, rather than items that only coordinate with a single ensemble, she points out. "They also evaluate the quality of every purchase, because they want their clothing to stand up to wear. Multipurpose shirts that work with any bottom or jacket have become a staple," Turner adds, which she is sure to keep in stock. In addition, shoppers at New Beginnings take an active interest in clothing that is made domestically. Though new items arrive at her shop daily, Turner's customers specifically ask for American brands. "It's very important to them. They know which ones are made here and which ones are imported, and check the tags to be sure of the item's origin." Seeking American-made products is not a new trend, but it has become more prevalent recently, along with consumers' growing interest in buying local food and supporting the American economy. Brands such as Frye boots, True Religion Jeans and Pendleton are among those that are made in the U.S., and American shoppers are increasingly on the lookout for these labels.
In addition to American made and versatile apparel, shoppers are looking for items with sequin embellishments, as well as spike heeled shoes. From bargain apparel manufacturers to high-end designers, these adornments are slated to be hot sellers through the New Year. Mariza Brown, owner of Atlanta Fashions in Ocala, FL, has been selling a great deal of spiked wedge shoes. "That's the hottest item right now," Brown notes.
A few product-specific trends are also expected to carry into early spring, especially in accessories. Kim Foust, owner of Island Chic Consignment Boutique in Carolina Beach, NC, has customers who normally reach for beachwear breaking from that pattern. "Pashmina style scarves are selling like crazy," says Foust. "Because these scarves work in any season, they have remained popular." Foust also notes that her shoppers have been buying more newsboy hats, because similar to pashmina scarves, they can be worn from fall to spring. She is currently making these two hot accessories work to her advantage. "We are equal parts retail and consignment, but I buy these accessories wholesale and merchandise mannequins with them," she explains. "Having a compelling mannequin on display helps both clothing and accessories fly off the shelves."
Retailers know that color trends are another factor that determines what's hot and what's not. Neutrals, including black, white, gray and beige, are clothing colors that sell well every year. When it comes to the choice hues of the season, however, Foust has seen a surprising pattern. "Brighter greens and yellows that I would have expected to be more successful in spring are what buyers have been attracted to lately," she points out. "I find that if a mannequin is outfitted in a brightly colored tunic and leggings, everything on it will sell." According to the Pantone Color Institute's recent predictions for the 2013 fashion color palette, this fixation with saturation will carry over into next spring and summer. Retailers will likely see tones of jade, emerald and grass green, in addition to lemon yellow and nectarine orange, take center stage.
As the final stretch of the holiday season wraps up, apparel retailers are already on the lookout for upcoming trends. By taking cues from what customers have sought out during these last few weeks of the year, shop owners can make a profitable transition into apparel trends in the New Year.