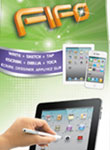 In business over a decade, Fifo Wireless is a manufacturer and distributor of wireless phone accessories for independent retailers and big box stores across North America. The firm goes to great lengths to live up to its reputation for creating products that fly off of retailers' shelves, and has developed a unique program allowing business owners to test its products against existing wireless accessory stock, using only one square foot of retail space as a testing zone. "Our products typically win, and those retailers switch to Fifo Wireless," says Gary Rep, VP of sales and marketing. "Most of the time, our new accounts come to us in that way." Fifo regularly comes out with new products, and recent additions have included an assortment of new chargers and a three-in-one charger. One of the newest additions to Fifo's inventory is its line of accessories and cases for the iPhone 5.
The iPhone 5, which charged onto the mobile scene with enough force to yield $5 million in sales over the course of three days, is larger than previous models, and customers can't use their old cases. Fifo picked up on this and has released bamboo cases through its XA Wireless line. The cases come with a variety of etchings on the back, meant to inspire and motivate customers, while making the iPhone 5 more decorative. Naturalistic and appealing to image driven millennial customers, the product is a unique alternative to the everyday plastic or rubber case, and provides protection to the phone without sacrificing style.
To order, Rep recommends that retailers call first, then visit the website. "Calling first allows us to set up the customer account to allow access to product details and pricing," he explains. "We can offer new customers a temporary login and password if they would like to look around our online store, and we'll help them in any way necessary. We are not about simply selling wireless merchandise, we're here to help." Fifo guarantees its products will sell, in part because of their bright, trilingual packaging, which is especially useful in convenience stores, and also because of the price. "Customers see products retailing for $11.99, which is half the price they would pay elsewhere, so they don't hesitate to make the purchase," Rep points out. Retailers pay $6 per accessory as part of the Fifo wholesale program, with no minimum order unless they wish to become a distributor as well. Occasionally and exclusively for mom and pop stores, Fifo runs specials on its merchandise, and buyers are encouraged to inquire about current or possible deals.
For more information:
Fifo Wireless
10900 NW 21st Street #210
Miami, FL 33172
Toll Free: 800-922-1602
Tel: 305-592-7906
Website: www.fifowireless.com