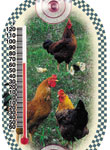 Heritage America by Morco is the new retail division of Morco Advertising Products. Morco has manufactured products in America since 1921, with thermometers and rain gauges among its top selling products. "We've sold strictly to the promotional products industry for the last 90 years, and we're stepping into this new market endeavor with a retail line," explains David Hart, president of the company. "If you want your customers to remember you, put your name on something they'll use," he says, noting that Morco's thermometers and rain gauges are functional products with beautiful graphics. "We have a wide spectrum of graphics, including military, floral, agriculture, inspirational, religious, states and wildlife, that will touch on anyone's interests. It's quite a mix, and we're adding more and more designs," Hart notes.
Morco's thermometers are made of heavy plastic so they will not rust, and do not contain mercury. The thermometers are solar powered by day and lunar powered at night (never need a battery), and are safe and eco-friendly. "The wildlife series is really popular," Hart points out. Rain gauges come in a variety of styles and shapes, and the Heritage America product line also includes clocks and license plates. "The biggest comment I get is, 'Wow, a gift for the guys,' because there are a lot more gifty things out there for women than for men." All Morco's products are made in America, and all products are designed, printed and produced in-house. "We're proud of that heritage," Hart remarks.
David Hart is also pleased to report that Morco listens and responds to its customers. "At one show, a gentlemen told me that if I had a loon, he could sell it. We put together the graphic and I emailed it to this gentleman and asked him if it looked like what he had in mind. He said it looked great." The loon is now part of Morco's wildlife series. Similarly, a customer desired a sunflower design and it is now part of the company's floral series. "If it's something someone is interested in and we can find images that we can use, and we feel it's something other people would be interested in as well, we'll add it to our line," Hart shares. Other recent product introductions include wooden thermometers, small plastic luggage tags, 12-inch rulers, switch plate covers and a 10-inch round slate clock.
Morco's retail website, Heritageamericagifts.com, "is a good place for retailers to see all our product designs," Hart continues. "We're adding designs every month, and they aren't in the print catalog. Retailers can call us and we'll send them a catalog with wholesale pricing." Retail pricing generally is keystone, and the 20-inch thermometer, for example, wholesales for $7.50 and retails for $15 to $18. Minimum order is one case of 25 pieces, but customers can mix and match designs. "Retailers could have 25 different graphics in one case; one bald eagle, one white tail deer, one single rose, and so on, so they have the capability of appealing to anyone that steps into their stores." Heritage America by Morco also offers name-dropping printing, for which there is a two case minimum and a setup fee.
Because the company carries more than 500 items and designs and products are printed to order, it asks for a two-week delivery period. Hart says he is also working on creating a program for in-store displays, and intends to procure a display case, which will be offered to customers at a reduced price with a minimum order. Presently, the company's thermometers are polybagged, and come in a box with a header card. Along with Morco's growth and expansion comes the need for additional salespeople, Hart notes. Heritage America is, "looking for some good retail reps," and interested parties should contact David Hart.
For more information:
Heritage America Gifts
125 High Street
Cochranton, PA 16314
Toll Free: 800-247-4093
Website: www.heritageamericagifts.com