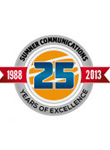 Sumner Communications has launched a newly designed Independent Retailer magazine, which now delivers the most complete source of essential industry information in a distinctive, glossy look. "For nearly 25 years, we have focused on supporting the business needs of small independent retailers across the U.S.," states Scott Sumner, CEO of Sumner Communications. "That commitment is stronger than ever and I am extremely proud to unveil our November issue. It is very gratifying to share this powerful resource in its stunning new format."
"For U.S. small businesses, 2013 will be an exciting year filled with change, in everything from new laws to innovative technologies," Sumner stresses. "We'll continue to supply the news, information and insights brick and mortar shops need to strengthen their businesses as well as improve their lives."
"As an example," adds Bill McNulty, publisher of Independent Retailer magazine, "the November issue shares information retailers rely on, such as notable fashion accessories trends, swipe fee reform and QR Codes. It also highlights hip smartphone applications and unique products, like the Nike+ Fuelband, which, coincidentally, just won an award at the 2012 Innovation by Design Awards," he continues. "Going forward, our readers will get even more exclusive features outlining critical shifts around jewelry, apparel and gifts, of which retailers will want to be aware as they strategize sales in the New Year."
The magazine revamp incorporates colorful headers that mark each of five sections—News, New Products, Product Trends, Company Update and Marketing—making it even easier for readers to thumb through the magazine to find their favorite areas. It also introduced a two-page color "Product Spotlight," which showcases publishers' picks of the hottest merchandise in multiple categories with brief descriptions, clear images, and contact and order information. In addition, each issue will include the popular Tradeshow Calendar.
Independent Retailer magazine was launched in 1989 and presently has a readership of more than 77,000. Persons interested in subscribing can visit sumnercom.com.
About Sumner Communications
Sumner Communications has been serving the wholesale merchandise industry for more than 25 years. With its library of monthly magazines, book-bound directories and powerful websites, Sumner is the leading publisher for the general merchandise trade. Printing in excess of two million buyer-requested magazines and books each year, the company's range of media properties brings buyers and sellers together, and provides a trusted and secure arena for wholesalers, importers and manufacturers to connect with buyers in virtually every product category.
Contact Information:
Gloria Mellinger
Sumner Communications, Inc.
203-748-2050, ext: 105