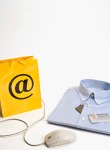 Some 38 percent of consumers who shopped for holiday gifts online this past season say they spent more money with e-retailers than they did in 2009, according to a new study. The convenience of online shopping (69 percent) was the leading reason that drove consumers to spend more online this holiday season.
More than half of those who spent more said online prices were better than prices inside stores. Some 29 percent of respondents said they were more comfortable with online shopping than last year, 26 percent said they had more money to spend on gifts and 25 percent said online retailers had emailed them more offers that they liked.
The full story on the survey, conducted by Lightspeed Research for Internet Retailer, can be found HERE.