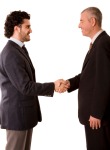 Retail employment showed a net gain of 646,300 jobs in October, November and December, according to an analysis of employment data released by the Bureau of Labor Statistics. The number was a 28.9% improvement over the same period a year earlier, when seasonal hiring led to 501,400 new jobs
The analysis, conducted by global outplacement consultancy Challenger, Gray & Christmas Inc. based on non-seasonally adjusted data, found that although November hiring was about the same as a year earlier, October and December hiring was the heaviest it had been in several years, the LA Times reports.
"It turns out the additional hiring was warranted, as retailers experienced their best holiday sales season in several years," John A. Challenger, chief executive of Challenger, Gray & Christmas, said in a statement. "Now, the question is whether the consumer will go into post-holiday hibernation."
The full report on hiring and sales begins HERE.