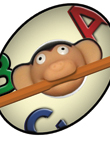 Flash Sales is a Florida based company specializing in a number of unique, fun products that appeal to a wide ranging audience, and one of its current best sellers is the Waverunner Ball. The Waverunner Ball is sold in beach and surf shops in the U.S. and the Caribbean. "The Waverunner Ball takes water sports to an all new level," Frija says. "While bouncing balls have been used for water sports before, the Waverunner takes fun in the sun even further, and is optimized to allow for hours of endless entertainment," Adam Frija, director of business development, adds. "To use Waverunner, simply throw it at your choice of water surface and watch it take off." The Waverunner Balls wholesale for $3.50 each, with an MSRP of $9.99 to $12.99.
Retailers interested in Waverunner have two choices of displays from Flash Sales. "We have a countertop display that holds 24 balls and comes complete with an LCD screen on top, and an endless DVD loop," Frija says. "The DVD shows potential customers how the ball works, so they get the idea immediately," he says. "It's a real help in closing the sale." If retailers order a minimum of 96 Waverunner Balls, the countertop display is included at no extra charge. The company also has a larger floor display that holds 96 balls, and also features the same LCD screen and DVD. Customers ordering a minimum of 288 balls receive the larger display for free as well. "We're finding the balls are selling really well in convenience stores, hotel gift shops and even supermarkets," Frija notes. "It's got a lot of momentum and appeal behind it, and we're going full tilt to keep up with the demand."
Flash Sales is also seeing increased demand for two other items in its line, Animolds and Rubbands. "Kids are going wild over our Animolds, which are colorfully molded, animal shaped toothbrush holders," Frija says. "Each Animold includes a suction cup backing that sticks to most flat surfaces, and with over 30 animal shapes available, our collection is certain to include everyone's favorite." While Animolds can be used primarily to hold toothbrushes, they're also strong enough to hold pens, pencils and even keys. The colorful devices wholesale for $1 each, with an MSRP of $2.99 apiece. A full video showing all the uses is available at www.Animolds.com.
Rubbands are colorful shaped rubber bands, made of silicone and die-molded in many different fun shapes. "These rubber bands return to their original shape when you take them off the item they're holding, or your wrist," Frija says. The Rubband line has just been expanded to include glitter, glow in the dark, and tie-dye designs as well. Fun shapes offered in the lineup include military, hip-hop, fashion, tropical, fantasy, princess and 18 more. "Our whole lineup is expected to sell very well as we head into the warmer weather," Frija says. "We're basically experts in branding, so we're doing whatever it takes to get the word out and get these products moving."
For more information:
Flash Sales, Inc.
4401 NW 167 Street
Miami, FL 33055
Tel.: 305-830-2900
Toll Free: 866-4Flash4
Websites: www.waverunnerball.com
www.animolds.com