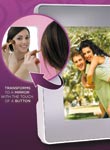 Flipo Group Ltd. designs and manufactures distinctive novelty, gift and home décor items. Launched in 1992, much of the firm's product line, which includes photo frames, bracelets, pet accessories and solar lighting, features LED lights. Building on many successful product introductions, Flipo is announcing the worldwide launch of its exclusive photo mirror at ASD Las Vegas, August 4-7.
This enchanting novelty item, called Reflections, transforms from a mirror into a lighted photo frame, or photo frame into mirror, with the touch of a button. In picture frame mode, the frame illuminates a five by seven-inch photo. "We previewed it to a couple of Hallmark stores and they went wild over it," says Jerry Phlippeau ("Flipo"), company president, product designer and marketing expert. "A lot of stores have already signed on." The item wholesales for $9.50 and retails for $19.95.
Show stopping products are guaranteed sellers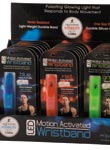 In the novelty category, Flipo recently introduced its LED Pulse Motion Activated Wristband to critical acclaim. "It is one of the most successful items we have ever had at the ASD, and we sold more than 100,000 bracelets at the show in March," Phlippeau notes. "This is a product everyone goes crazy over." The wristband provides excellent nighttime visibility for joggers, and is a "must have" at dance clubs. It is available in red, white, blue and green. "Retailing for only $5.99, it is an impulse item that sells very well," Phlippeau remarks.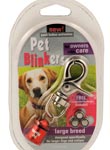 Pet Blinkers flashing pet safety lights are another popular seller that Flipo introduced at ASD two years ago. They are made of a durable, aluminum casing that houses a set of LED lights that can be seen up to a half mile away. Each unit includes a spring-loaded clasp to attach to a pet's collar or lead, and the item retails for $7.95. "This is another great impulse buy that retailers can put anywhere they have a counter," Phlippeau points out. Since Flipo received the patent on this product, more than three million units have been sold.
Bold packaging and videos encourage sales
Renowned for stellar branding, Flipo presents its products in brightly colored, descriptive packaging. In addition, many display units also light up to show off the products. "All of our packaging is a selling point," Phlippeau stresses. "Additionally, we have an in-house production studio at our facility in Illinois. Our biggest customer is QVC, and we shoot videos for all of our products. We also offer them to our customers for their websites and in-store demonstrations."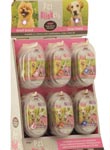 In addition to innovative products, great packaging and marketing materials for retailers, Flipo prides itself on customer service. "People like the fact that they get a real person on the phone, and that we are dedicated to solving any problems immediately." Flipo generally ships products the same day an order is placed, and there is no minimum order. Phlippeau invites buyers to visit Flipo at ASD Las Vegas August 4-7, to see Reflections and to take advantage of show specials. The company will be exhibiting at booth SU1747.
Where to buy:
Flipo Group, Ltd.
613 1st St., LaSalle, IL 61301
Toll Free: 800-392-6966
Tel.: 815-223-9942
www.flipowholesale.com