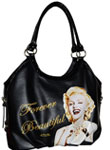 Fun fall fashion accessories include an expanded line of striking licensed celebrity icon image bags from Aliz International Inc. Now available in even more exclusive designs and innovative materials, the company's products feature images of Marilyn Monroe, Elvis Presley, Audrey Hepburn, Betty Boop, Bettie Page and other well-known figures. "The Marilyn Monroe designs are always strong sellers, and we continue to create new looks to meet consumer demand," says Rosanna Tran, VP of the company.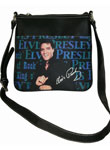 Licensed celebrity icon image products are available in genuine leather, suede, vintage velvet and now, leatherette. Styles include wallet, clutch, tote, messenger, hobo, satchel and cross body, among others. Smaller bags are big with today's consumers, Tran points out. "They used to be somewhat of a novelty item, but not anymore. Smaller bags are popular accessories for everyday to evening wear." In addition, the cross body bag is a very popular style. "We expect it to be a hot seller for fall and the holiday season," Tran notes.
Trending products are big sellers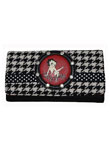 Aliz International, selling quality bags and luggage since 1991, prides itself on staying ahead of trends to bring customers the most fashion forward merchandise in the industry. "We are in close contact with our customers, to make sure they are satisfied with our products, workmanship and service," Tran points out. Gift shops and fashion boutiques, among other outlets, are finding success with Aliz's products.
Wholesale prices generally range from $8 to $18, and wholesale distributors receive special quantity discounts. Retail prices range from $20 to $60. The minimum order is $200, and retailers can mix and match products. Visit Aliz at ASD Las Vegas, August 4-7 in the Style & Beauty section of the show.
Where to buy:
Aliz International Inc.
11136 Satellite Blvd.
Orlando, FL 32837
Toll free: 888-BUY-ALIZ (888-289-2541)
Tel.: 407-438-8816
Website: www.alizbags.com