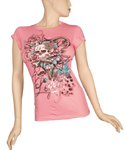 APPAREL CANDY has introduced a women's T-shirt design, #4282, that features very elaborate, stylized graphics with a skull as the central focus. The artwork is rendered in a shiny foil finish that highlights and enhances the fluidity of the design, under which, "Legends," is written. The T-shirt comes in a choice of seven colors: lime, pink, black, blue, light blue, brown and olive, which is an army green. The best selling colors are black and light blue.
The shirts are wholesaled in packages of six, seven or eight units of the same color. The quantity in a pack varies, depending on color. The six pack includes two units each of small, medium and large. The seven pack adds one extra large, and the eight pack contains two extra large units. In these minimum unit packages, the wholesale cost is $4.25. The suggested retail price is, at minimum, $14.99.
The design is exclusive to Apparel Candy, and the shirts are 100 percent cotton. And they are washable. While there is no minimum order other than buying by the pack, Apparel Candy offers free shipping within the continental U.S. on orders of $200 or more.
For more information, contact:
Apparel Candy
1651 Mateo Street
Los Angeles, CA 90021
Toll Free: 877-870-8686
Website: www.apparelcandy.com