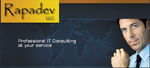 RAPADEV, LLC, one of the first developers of credit card processing for the iPhone with ProcessAway, has expanded its software line with, "Road Merchant," a mobile credit card processing application for the BlackBerry. The software works on any BlackBerry with firmware v4.2.1 or greater, and can process transactions over a number of network connections for that device, including MDS, WAP 2.0, Direct TCP, or Wifi. It allows merchants to accept credit cards on the spot, and offers the confidence of getting immediate authorization for a credit card payment. Road Merchant works with Authorize.net for both ecommerce and retail accounts, select Authorize.net emulators, and also the NMI gateway, offering millions of existing merchants the ability to process mobile payments with their current provider.
For new merchants, Rapadev has formed a strategic alliance with Prolific Payment Solutions, to provide rates that are reportedly well below the industry average, and also provide 24/7 customer service every day of the year. For accounts that require card swipe and receipt printing capabilities, Road Merchant can take advantage of an extremely compact Bluetooth Card Reader/Printer, allowing the merchant to qualify for the lowest discount rates offered. This makes Road Merchant a viable contender for a retail/high-volume environment.
Road Merchant can be downloaded OTA directly from the BlackBerry's browser at www.roadmerchant.com/bb/rm.jad. Merchants are encouraged to download the software and perform test transactions, using the built-in demo accounts. To activate Road Merchant for live transactions, merchants may perform activation directly from within the application for $19.95. To perform card swipe transactions, merchants can find the Bluetooth card reader/printer, which has a suggested retail price of $299, at http://www.cardreaderstore.com, Rapadev's dedicated ecommerce site to support Road Merchant.
For more information:
Rapadev LLC
Tustin, CA 92780
Tel.: 714-656-4426
Website: www.rapadev.com