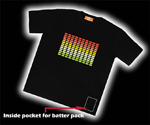 AGA WHOLESALE introduces, P-qualizer voice activated T-shirts, in a choice of 30 different designs that light up and blink when a sound is made. They operate on two AA batteries, which fit into a special pocket on the inside of the shirt.
There is an on/off switch, so the wearer can control when the lights will blink or not. Among the stock designs are hearts, skulls, flowers, animals, flags and people dancing. The blinking capability is especially appreciated at sports events and in nightclubs.
The shirts are all cotton and come in small, medium and large. The initial stock is black, but other colors are available on volume orders. Custom designs are also available. The batteries are not included. They can be removed, so the shirts can be washed and then replaced. The minimum order is 10 units, and can be in an assortment of designs.
The wholesale cost is $12.99 or $14.99, depending on the design. The suggested retail price is between $45 and $49.
For more information:

AGA Wholesale
1471 Lenox Court
Wheeling, IL 60090
Tel.: 781-552-9665
Fax: 224-676-0236
Email: shammywow@live.com