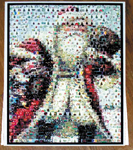 FINAL SCORE PRODUCTS creates, Montage Mosaics, which are made up from hundreds of tiny pictures that, on a closer look, morph into a single image. All the images in a Montage Mosaic are related to a single theme, and the company offers more than 700 different design themes. They fall into nine categories. Within the holiday category is a Vintage Santa from the movies. Another contains actual tiny stills from the movie, "It's a Wonderful Life," and on closer look, features a photo of Jimmy Stewart. "The Notebook," and, "Gone with the Wind," are among the 100 or so Montage Mosaics that feature movie themes.
There are also Sports themes, Horror themes, Musical Instruments, and Clouds and Sunsets, among others. These are prints on photo stock paper, and the basic size is borderless, 8.5 by 11 inches. Larger units are available. Retailers can place orders over the Internet and input the code WD 12 to obtain the wholesale price. Typically, an 8.5 by 11 inch print wholesales for $11, although prices vary somewhat depending on the theme. The suggested retail price is $19.99 to $29.99. Retailers that frame the prints can sell them for about $50.
These are all limited edition prints, and for most there are just 25 units of each size. Each comes with a certificate of authenticity, which indicates that there will not be more than 25 copies of the montage. Many of these, especially the sports, celebrity and movie themes, have been acquired by well known athletes and actors featured in the design.
The minimum order is $50, and retailers who place an order for more than $50 under the dealer code, get an additional 20 percent off the wholesale cost. The company is offering a "coverspecial" sample package. It contains ten of the best selling montages, in 8.5 by 11 inch size, along with ten collectible poker chips in themes related to the montages, for a total of $99. The suggested retail price for the poker chips is $5. Simply type, "coverspecial," into the website.
Montage sizes can go up to 24 by 31 inches. These wholesale for $45, and the suggested retail price is $75 unframed and $150 framed. Just two designs, "Kiss," and scenes from, "Friends," the TV show, are available in 50 by 24 inch size.
For more information, contact:
Final Score Products
202 Dixon Avenue
Beckley, WV 25801
Tel.: 304-255-4321
Website: www.finalscoreproducts.com