NEUTRANO introduces the Nutec brand, WristFone, by Neutrano, a cellular telecommunications device that is also a watch, with the capacity to perform a wide variety of multimedia entertainment. As the name suggests, it is worn on the wrist. The phone is GSM enabled, and is a world phone that operates on all five continents. It operates in nine languages, and has a built in camera and touch screen that is activated with a stylus.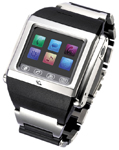 It comes with a memory card that has 512 megabytes and can be expandable to more. The camera has 2X digital zoom, among other enhancements. It also comes with a USB cable, a charger, two lithium batteries and a Bluetooth headset, along with a plug that converts Bluetooth from mono to stereo. The calling time ranges from 4.5 to 6 hours, depending on the network. Standby time is from 260 to 340 hours.
WristFone can transmit email, entertain with games, and provide FM radio. In addition, it is a video and voice recorder. WristFone comes individually boxed in a PVC watch box that contains quick start instructions. Online instructions are also available in detail. The watch has a handsome square face.
The minimum order is 300 pieces, with a wholesale cost of $220. The suggested retail price is $350.
For more information:
Neutrano
230 Pulman Avenue
Kenmore, NY 14217
Toll Free: 800-668-6392
Tel.: 905-760-0226
Website: www.neutrano.com