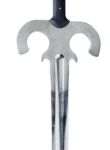 In the market for throwing stars, scimitar swords, or good old Swiss army knives? For two decades, Anjay Traders has been providing specialty knives and other related collectibles at wholesale prices.
Based in the metropolitan Chicago area, Anjay Traders offers a wide range of products, divided into categories like martial arts, medieval armor, swords and more. Among the company's current bestsellers is a three piece set of bat shaped throwing knives, reminiscent of what is used in the movies by Batman himself. In addition to the very popular throwing knives line, Anjay features camping and fishing knives, folding pocket knives, and fantasy themed blades such as daggers and Scottish dirks. There is even a line of knives manufactured from authentic Damascus steel, a type of hot-forged metal used in sword making during the Middle Ages and the Renaissance. Buyers can obtain Bowie knives and several other types of hunting knives from Anjay, made from this premium metal.
With a minimum order of $100, Anjay Traders currently does business on the web at anjaytraders.com. Visitors to the company's website have the opportunity to set up a user profile, which entitles them to a monthly email newsletter filled with new items and deals. Merchandise is typically shipped within 24 hours, and drop shipment is available. International buyers are instructed to contact Anjay Traders for more information. Given the nature of the merchandise offered, buyers must be 21 years of age or older to make a purchase.
Contact:
Anjay Traders
450 Shepard Drive
Elgin, IL 60123
Ph: 847-888-8562
Website: anjaytraders.com