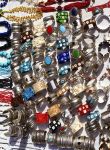 Sterling silver is one of the most popular types of jewelry, owing to its relative affordability and versatility, among other factors. There's no question that it's in demand from consumers, and there are many wholesalers ready to supply retailers with just what those customers are looking for.
The Plum Island Silver Company, for example, claims to offer one of the largest selections of silver jewelry in the world, and prides itself on placing customer service first in the selling of it. The company's 8000+ silver jewelry items are discounted at up to 50% off, and same-day shipping is available for early orders. Visit www.plumislandsilver.com for a free color catalog, as well as affiliate program and bulk catalog information.
Celebrating its 15th anniversary, Silver Oasis Inc. features new items weekly, and visitors to silver-oasis.com have the opportunity to browse the company's online catalog. Silver Oasis specializes in silver body jewelry, as well as Celtic style pendants and cuffs. Whether it's jewelry, charms, or chains, if you're looking for sterling silver product, Silver-Oasis.com most likely offers it.
Waterford, Michigan's Gorman's Jewelry offers many quantity discounts on sterling silver jewelry, easily identifiable with an asterisk for those perusing the company's web presence as part of WholesaleCentral.com. There's no minimum order, and they also feature a wide selection of marcasite jewelry in addition to the sterling silver product. Closeout product is also readily available for purchase, with great detail provided on the website.
GabJor 925 Designs takes its name from the .925 solid sterling silver with which its products are hand-made. Produced exclusively for GabJor, these rings and bracelets also contain genuine hand-cut gemstones. These are one-of-a-kind designs, and for those who enjoy auctions, GabJor also maintains an affiliated eBay store at GabJor-925-Designs.
Since 1968, the Reo Company has been an exclusive designer of fine wholesale sterling silver. Reo came under new ownership last July, but still offers the same quality product with exceptional customer service. The company website, www.reocompany.com, is extremely user-friendly and easily navigable, allowing buyers to browse through a wide array of categories, from baby and bridal to vase pins and Victorian.
Contact:
Plum Island Silver Company
P.O. Box 60
West Newbury, MA 01985
Ph: 978-499-8203
Website: www.plumislandsilver.com
Silver Oasis, Inc.
3514 N.Pulaski Rd.
Chicago, IL 60641
Ph: 773-777-7474
Website: silver-oasis.com
Gorman's Jewelry
1185 Wind Chime Drive
Waterford, MI 48327
Ph: 877-737-0894
GabJor Trading
Ph: 615-274-3838
Website: www.gabjor925designs.com
REO Company
11145 S. Eastern Ave. #140
Henderson, NV 89052
Ph: 800-438-6369
Website: www.reocompany.com