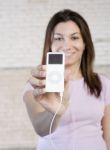 Starting Thursday, January 7 and continuing through next Sunday, the Consumer Electronics Association (CEA) is bringing the 2010 Consumer Electronics Show (CES) to Las Vegas. This year, more than 330 new companies–a record number for the show–will be added to the 2,500+ exhibitors showing off the latest and greatest electronics products and innovations. All told, there is expected to be in excess of 20,000 new products on display this year.
The technology categories at this year's International CES will include lifestyle-related technology; Apple-related products (the "iLounge Pavilion"); the latest in green technologies ("Sustainable Planet"); and a showcase devoted to gaming hardware and software, among many others.
"With a record number of new exhibitors, scores of new product introductions, several new spotlights on the show floor and a dynamic lineup of keynote sessions, the 2010 International CES will be our best show yet," said CEA President and CEO Gary Shapiro. "More technology deals will be made during the four days of CES than anywhere else on Earth. In fact, each CES attendee has an average of 12 meetings while at the show, reinforcing CES as the business hub for technology. Innovation is flourishing within the technology industry, and the 2010 CES is the only place to see it all."
Twenty market-specific "TechZones" will highlight emerging markets and hot new trends. This year, those will include such items and trends as eBooks, mobile DTV and "safe driver" technology, all supporting the reputation of the CES as the world's largest consumer technology trade show.
More than 800 expert speakers will be on-hand, with approximately 250 conference sessions offered. Matters of discussion will include technology policy and of course, the rise of social media.