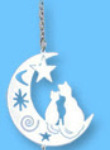 If carts and kiosks can catch the eye of passersby, they can stop them in their tracks. If they have original merchandise to sell, they can turn them from just-lookers into paying customers. This is a distinct possibility with Off the Wall Creations' beautiful crystal products, which capture existing light and reflect a rainbow of dancing colors back at people walking by. To further pique the interest of shoppers, all Off the Wall Creations' suncatchers, bookmarks, dragonfly crystals, semi-precious crystals, beaded and birthstone crystals and other products are original company designs, coming from Canada into the U.S. for the first time.
The firm has many variations of suncatchers, says company owner, Jim Walling. "Our own holographic suncatcher that we call, The Spiral of Life, has been a very popular item for many years. We have a patent on it, and it is what got our company started. We also have the chakra style suncatcher for New Age people. Our complete product line is my own design. They are original and will not be found anywhere else. That has been one of the keys to our success." Walling says that good quality crystals, like the ones his firm sells, produce bright rainbows and reduce stress. They are an effective way to produce a drug free tranquil environment. Walling says that he loves to work consumer shows, because he likes to watch the reaction of people as they approach his booth; they are attracted to the glitter and sparkle of the crystals, and it brings smiles to their faces.
Off the Wall Creations does not offer a planogram for the products, but it does have a number of POP displays. The company is developing a starter kit of its crystals that will wholesale for around $200. This will offer an assortment of products from different categories of crystals, according to Walling. The company will be offering point of sale information about the products to place in kiosks by the merchandise. It will be an 8 by 10 inch sheet on the crystals. After that, the seller can reorder products that sell best. Crystal has high perceived value, so these products can get at least double the money paid for them. One of the current best sellers in the line is the Rainbow Maker Crystals. These are large Austrian crystals strung on nylon coated wire, with a colorful array of 14 mm octagon crystals in seven (chakra) colors, plus clear.