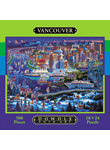 Dowdle Folk Art Jigsaw Puzzles feature different cities, specific areas of the country, and a line of generic titles, including Noah's Ark Puzzle. Besides being magnificent works of art, the more the user looks at the puzzles, the more they will discover about each story within the art. The artist, Eric Dowdie, tells a story about each city and location within the piece of art that comprises the puzzle.
There are several different lines of puzzles, all beautiful to look at. There is a 500 piece and 1,000 piece puzzle. The 500 piece puzzle comes in two different sizes, 16 x 20 inch and 18 x 24 inch. Another fun aspect of the puzzles is the different styles of packaging. There is the regular line that comes in a standard puzzle box, the generic titles in a storybook style package, and a "luggage" style in a suitcase package.
The wholesale prices vary, and the 16 x 20 inch puzzles in a regular box are $7.50 per unit. The 18 x 24 inch puzzles wholesale for $8.50 per unit. The company will soon come out with a children's line of puzzles, which will wholesale for $7.50 per unit. There is a minimum order of 24 units. Dowdle Folk Art has created several different displays for its line of puzzles. One cardboard unit, a floor display, will hold 36 puzzles, with two other displays available holding 60 or 90 puzzles.
The company offers a wide variety of puzzles, including an Americana Collection, an Amish Collection, and International Collection, Kenya Collection, National Collection, and a Sports Collection. As an example, within the Americana Collection are the following puzzle titles: All Hallows Eve, Birds & Bees, Camp Eagles' Nest, Chocolate From Heaven, Christmas Village, Festival of Trees, Gingerbread House, and more.
For more information:
Dowdle Folk Art
1280 West 200 South
Lindon, UT 84042
Tel: 801-785-1123
Website: www.dowdlefolkart.com