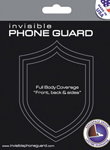 Sermo's Invisible Phone Guard is the latest solution in device protection, using state of the art film protection technology. According to the company, the product will keep your prized possessions in perfect condition, without adding the bulk of traditional cases.
The key features include:
• The clearest and toughest film on the market.
• The ultimate in scratch resistant film for your gadgets and devices.
• Adds protection without bulky cases.
• Keeps the device manufacturers' original sleek design.
• Lifetime replacement warranty.
Invisible Phone Guard is made from a clear, thermoplastic urethane film, the toughest of its class. It has the ability to resist the highest level of abrasion, making it the ultimate protection for gadgets and devices. The film's "self healing" technology makes it immune to scratches, and virtually indestructible. Traditional cases can hide the device manufacturers' original sleek designs. The extra bulk can also make it feel awkward and prevent it from connecting to docks properly. With Invisible Phone Guard, the user gets full protection, with the world's most durable transparent film.
Sermo offers invisible protection for 250 models of devices, including Kindle and iPhones. The wholesale price per unit, with full body coverage, including bag, sides and front, is $7 per unit. The suggested retail is $19 to $24, and the minimum order is $100.
For more information:
Sermo
14 Boston Place
Huntington Station, NY 11746
Tel.: 631-827-8567
Website: www.invisiblephoneguard.com