by Brandon Thomas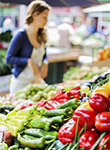 Local bakeries, butchers, and convenience stores play a vital role in the lives of thousands of residents and, in most neighborhoods, provide the essential element of community that big box companies simply cannot replicate. FoodMarketplace is an online platform created to help empower local food stores to connect and communicate with consumers online quickly and efficiently.
FoodMarketplace.com is an online community where local food and beverage retailers of any size can open a website free of charge. Local retailers can create a customized online store in a matter of minutes. Customization options include uploading product images, store information such as location and hours, highlighting in-store specials, displaying stock items, and more. The platform is very user friendly. It takes about fifteen minutes for retailers to create their website and start promoting their business. Neighborhood retailers can quickly engage with consumers via their computer, tablet and cell phone.
Franco Lagudi, the CEO of FoodMarketplace.com, noticed most small food businesses often do not have an online presence. "It's been a long process to develop this platform, but now that we have had our official debut, we are encouraging local food retailers to give our platform a try. It's free for local retailers to open their website and grow their business using the latest technology, with FoodMarketplace.com they have everything to gain and nothing to lose" explains Lagudi.
FoodMarketplace is easy for consumers to navigate, allowing consumers to find retailers near them by entering their zip code or location. "FoodMarketplace focuses on local retailers in local markets. If you live in New York, you're

not going to order fish from someone in Arizona." states Lagudi.
FoodMarketplace gives food retailers the capacity to reinforce their standing as a vital thread in the fabric of their community. FoodMarketplace is about people, families and neighborhoods. It's a great way for food retailers and consumers to support each other and their region. FoodMarketplace.com gives local retailers the power to create a deeper connection with consumers and increase customer loyalty.