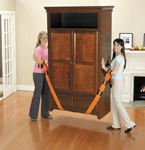 ABOVE ALL CO. FOREARM FORKLIFT INC. offers the patented, Forearm Forklift, which is a pair of lifting straps, invented by this company. It fits on forearms, making them work like a fulcrum to make everything that's carried 66 percent lighter than it is. The straps are made of super strength webbing, and each strap is nine feet, four inches long and has 48 inches of adjustment, so that one size fits all.
There are three black padded inserts at the end of each strap. Users choose one of the three, depending on the size and height of the object to be carried. Then the straps are put on the two users' forearms, and the other end is looped around the object to be carried. It will lift up to at least 700 lbs., which surpasses the weight of washers/driers, armoires, sofas, sheets of drywall, windows, refrigerators and even an upright piano.
Forearm Forklift was invented by Above All's principals, and was not designed to replace dollies and hand trucks, but rather to complement them. They are not a good choice, for example, on staircases, over rugs or hardwood and marble floors, where they will scratch the surface. Lifting heavy objects off the ground by hand stresses the lower lumbar region. Forearm Forklift has no wheels, but keeps objects off the ground.
The pair weighs just one lb. and comes folded in a package that is seven by six by three inches, so it can easily be displayed in a store and stashed in a consumer's pick up truck, car or garage, or even kitchen cabinet. For retailers such as hardware, home improvement, furnishings, auto supplies, paint, flooring and other stores, it represents an easy add-on sale to other equipment. The minimum order is six units. The wholesale cost is $10. Suggested retail is $20 to $25.
For more information, contact:
Above All Co. Forearm Forklift Inc.
205 North Aspan Avenue, Ste. 5
Azusa, CA 91702
Toll Free: 888-334-6106 and 888-334-1133
Tel.: 626-334-9828
Toll Free Fax: 888-334-2248
Website: www.forearmforklift.com