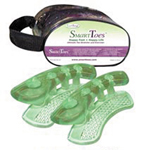 SMARTTHINGZ introduces SmartToes, devices made of silicone gel that bring comfort and relief to tired feet. They can be used for minutes for a quick refresh before donning shoes again for a night on the town, or for hours to put feet back in alignment with the body. They come in a pair, and strengthen toes, help improve posture, stretch the Achilles tendons, stretch the toes out and have an extended base that stimulates circulation. One size fits all, and they are designed for use by men and women.
SmartToes come in a tote bag, so they can be kept handy for emergency quick relief. Users can walk around in SmartToes when they are indoors. The units come in a refreshing green color, and the gel maintains its shape. Simply insert toes in SmartToes and feel the relief.
The minimum order is 24 units. The wholesale cost is $14.99, and discounts are available on high volume orders. The suggested retail price is $30 to $34. Instructions are available in the package, and on the company website.
For more information:
SmartThingz
1133 Broadway, Ste. 509
New York, NY 10010
Tel.: 212-994-6571
Email: info@smartthingz.com
Website: www.smartthingz.com