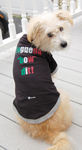 PATRIAPET, which carries a growing line of doggie products based on nationalities, offers T-shirts for dogs. There are 20 different designs, each related to a different country. They are of cotton jersey, and have some stretch for comfort, along with ribbing on the collar, sleeve and waist. They are arranged into series, which includes an I (heart) series, princess series, and a range of novelty/witty designs. There is, I (heart) my (German, Italian, Swedish, etc.) Mommy or Daddy.
The princess series also delineates different nationalities. Under the novelty/witty banner are, Fuggeda Bow it, and another based on a chant from German festivals. It is Ticky Tocky, translated as Zicke Zacke, and very familiar to people of German descent. The T-shirts are made in the U.S. They come in sizes XXSmall to S/M. Those sizes will fit dogs five lbs. or smaller, to medium size dogs at about 25 lbs. That size range covers 90 percent of people who dress their dogs, according to company management. It is uncommon to see a Mastiff in clothing, for example.
The minimum is at least $100 and can include an assortment of PatriaPet's nationality based dog items. The wholesale for T-shirts is $6 to $6.50, depending on size and design. Suggested retail is $12 to $14. Additional items from PatriaPet include extra smooth and durable collars and leashes, charms, which can be worn on dog collars or on owner's apparel or backpacks, biodegradable poop bags, and all natural treats modeled after pizza, pierogis and peanut butter cannolis.
On volume purchases, retailers can get a display unit that can, but need not, carry a nationality based header, as in, "Polish Pet Center."
For more information, contact:
PatriaPet
57 Gould Street
Clifton, NJ 07013
Toll Free: 800-738-6092
Website: www.patriapet.com